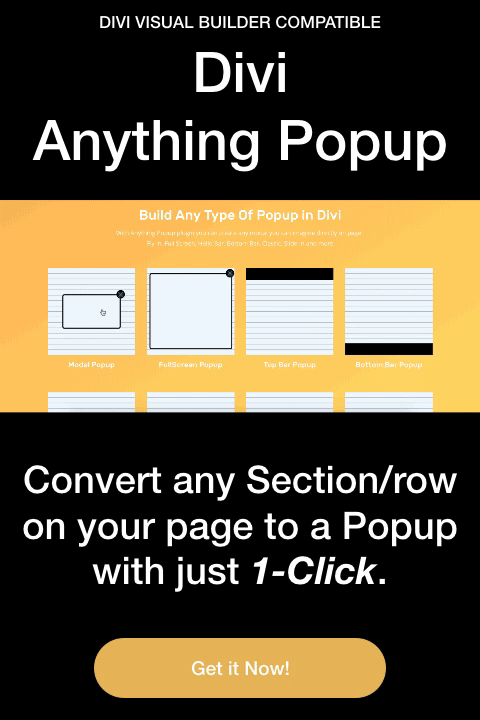 Convert any Section or Row on your page to a Popup with just 1-Click.
This plugin is 100% Visual Builder Compatible.
This plugin is 100% compatible with the Divi Visual builder and really simple to use. However, you won't preview the Section/Row as Popup in the visual builder. And that's intentional as you need to view & edit the content of the section/row as you normally do. So in the visual builder, it will remain as it is now but will have additional options to convert the section/row into Popup. Once enabled all the section/row will become popup on the front-end of your website. Easy huh?
A really simple way to create & edit Popup Content directly on the page.
You are not limited to put simple text in your popups or leave the page editor to create your popup content via divi layout and insert it via some hacky shortcode method. You can now create & edit your complex popups directly on the page. You can use any divi modules within it as you create the section as you normally do while creating your pages. The Possibilities are endless.
Plugin's Main Features:
Super easy to use. Fast and furious.
Convert any standard divi Section/Row into Popup with 1-click.
Advance Trigger Options.
Edit your Popup content directly on the Page visually.
Use any divi modules within the Popup.
Fully responsive and customizable.
Visual Builder Compatible.
more features to come…
Usage Instructions:
Simply upload and install the plugin. Once activated, you will see an additional option on your divi standard sections/row setting to convert it to popup. Simply enable that and your standard section/row will be converted to popup. There are other options too which are simple and self-explanatory. This plugin is unlimited use and the license is for one year for updates and licensing, after that period you may repurchase at 50% of the original price you paid at the time of checkout.
Check out the use case and simple way to build a pop up. 
If you like this, have a look at my other available freebies and products.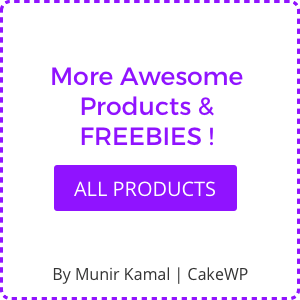 ---
Changelog:
v1.2.0: Wordpress Removed magnificPopup support. We just added again v1.1.0: Added: Auto Close Feature Fixed Major Bugs v1.0.0: Initial Release
Please scroll down for the support form
This theme, layout or plugin is comprised of two parts.
1. The PHP code and integrated HTML are licensed under the General Public
License (GPL). You will find a copy of the GPL in the same directory as this
license file.
2. All other parts, including but not limited to the CSS code, images and design are
copyrighted by the vendor concerned and are NOT licensed under GPL.
This license allows the item to be used in projects for either personal or commercial use by you or on behalf of a client. The item cannot be offered for resale either on its own, in part, or as part of a larger project including that being part of a hosting offer. Distribution of source files is not permitted.
*Support is provided by vendors directly.
Please login to access the support form. you can do so here