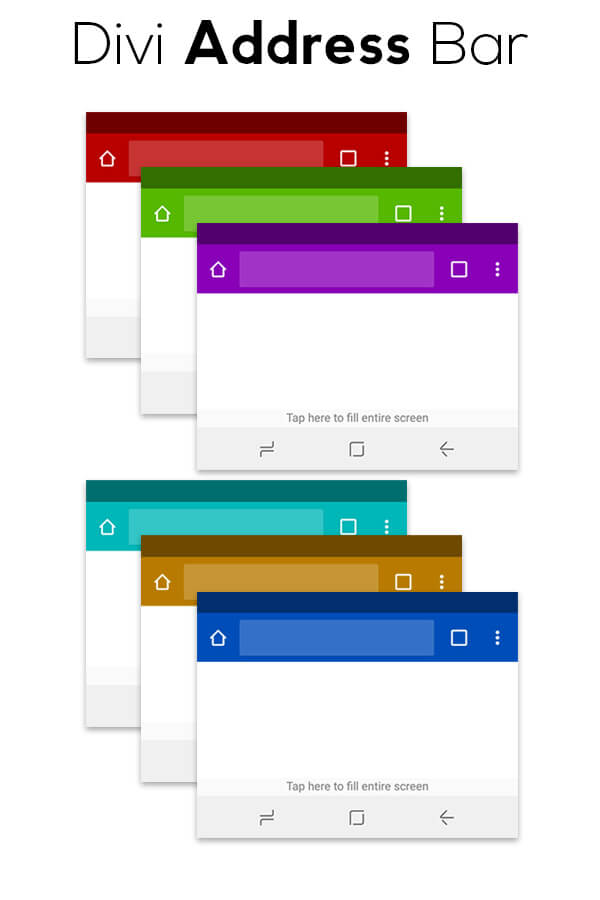 Divi Address Bar takes the user mobile experience to a new level. The Divi Address Bar was developed so that anyone can modify or style the Chrome Address Bar on Android devices through the WordPress Customizer or Divi Theme Customize tool.
You now have the ability to change the color of the Chrome Address Bar to match your theme! Give your website the full branding experience like the big dogs: CNN, CNET, and Facebook.
Note: Tested to work with stock Divi Theme, and Divi Mega Menu.
Directions after plugin purchase:
1. Extract the zipped file and upload the folder to /wp-content/plugins/ directory or load via the standard WordPress plugin installer
2. Activate the plugin through the Plugins menu in WordPress
3. Go to Appearance > Customizer > Divi Address Bar
4. Have a great time styling your Google Address Bar
Note: This plugin currently works on the Chrome browser on an Android. We plan to add capability of other browsers and devices as it becomes available to do so in the Chrome browser by Google. Remember, Android is the MOST sold phone in the world, and the Chrome browser is the most used browser in the world. Your website visitors deserve a great themed experience!
---
Changelog:
v1.1 Release Date: November 1st, 2017
- Added to Elegant Marketplace
Please scroll down for the support form
This theme, layout or plugin is comprised of two parts.
1. The PHP code and integrated HTML are licensed under the General Public
License (GPL). You will find a copy of the GPL in the same directory as this
license file.
2. All other parts, including but not limited to the CSS code, images and design are
copyrighted by the vendor concerned and are NOT licensed under GPL.
This license allows the item to be used in projects for either personal or commercial use by you or on behalf of a client. The item cannot be offered for resale either on its own, in part, or as part of a larger project including that being part of a hosting offer. Distribution of source files is not permitted.
*Support is provided by vendors directly.
Please login to access the support form. you can do so here