Deluxe Hotel One Page Hotel Layout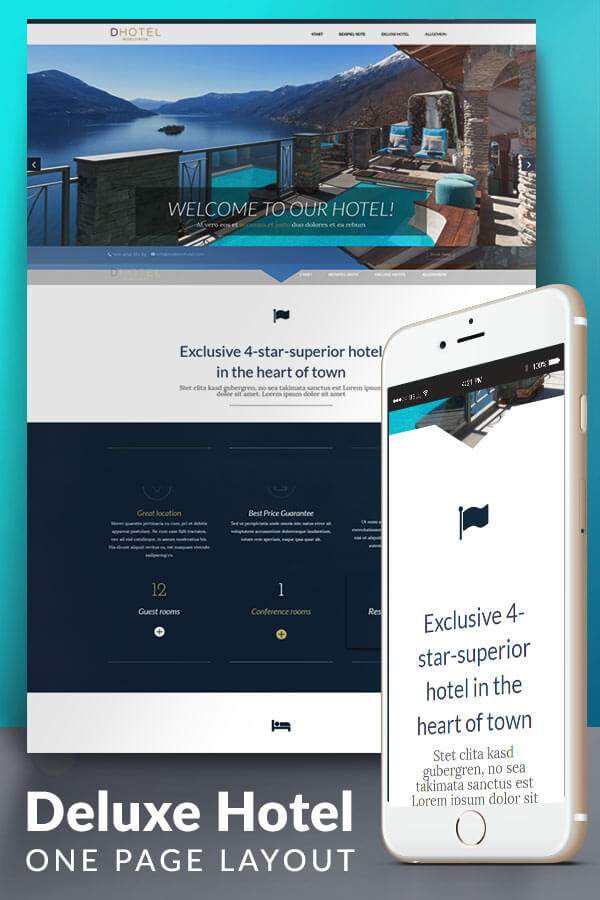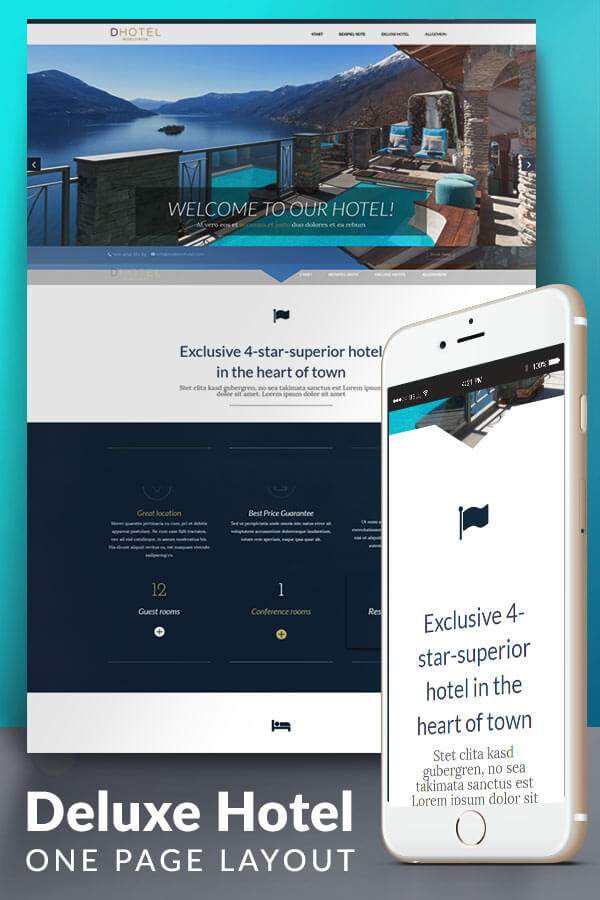 Licensing
You may install this product on any number of websites that you build for yourself or your clients or as the license so determines, i.e, if it is single use, then that applies. You may not install any of these products as part of a hosting offering. Any abuse of these license terms will result in the termination of your account and the licenses that are attached – no refund will be offered or awarded in such cases.  You will receive 6 months support – premium support charges may be incurred after this period. Updates are for the life of the product.
We understand that there can be issues whilst utilizing out of date browsers. Please ensure you use up to date browsers when using our vendors products. For DIVI Theme – Third Party Plugins may not perform as desired in the Divi Visual Builder. This is an issue that we cannot fix due to the restrictions put upon us by Elegant Themes lack of Divi Developer Documentation.
Please be aware that you will need an amount of experience in Divi Theme/  or ELEMENTOR/WordPress to take advantage of our themes and plugins.
Please make your decision to purchase based upon your skill level to see if our products fit your needs. Due to the nature of Digital Downloads, Refunds are not possible – please ensure that the product you are buying will do the job you want it too.
All support for products is handled by Vendors and contact details will be included in the download packages. If contact details are not found within the files, please do contact us and we will be happy to put you in touch with the vendor concerned. BEFORE YOU ASK US FOR DIRECT SUPPORT – READ THIS! 
Websites – made in Germany
Simple, elegant and (AB-tested) conversion optimized hotel layout for any type of hotel. Present all your products like rooms and offers in a timeless easy to use one page layout! Choose between many predefined sections and modules handmade for hotel features. All modules are prenamed already for optimal search engine optimization. All text and items are already prenamed with search engine optimized categories such as h1-h3 or body text. This layout comes also with full Font Awesome Integration.
Installing is very simple.
1.) Just create a new page with DIVI builder, import layout "DeluxeHotelLayout29112016" from DIVI library. Inside the ZIP archive you also will find the files DeluxeHotelCSSVer.2.txt + ReadmeDeluxeHotelVer.2.txt in which you will find all explanation and css codes needed.
2a.) Copy the CSS code from DeluxeHotelCSSVer.2.txt (within the ZIP Archive) in Themes E-Panel CSS or your child theme style.css :
2b.) To change specific things like color of buttons in header, font size in general, arrow buttons in slider, etc. please view file:
ReadmeDeluxeHotelVer.2.txt (within the ZIP Archive)
3.) To get the Book Now button on top, just create a Menu with a Book Now button/link by adding the css class "menu-button-1" to it and place it as Secondary Menu.
4.) To see the icons as in the demo simply go to Theme Options >> Integration and place this font awesome integration code "<link rel="stylesheet" href="https://maxcdn.bootstrapcdn.com/font-awesome/4.6.1/css/font-awesome.min.css">" in the <head> area
Done!
Important to know
>> For the 'flying' text I used the free plugin Animate It! from eLEOPARD Design Studios. Just install the plugin and generate the shortcodes for the effect you like via the plugin's support page. Then place the shortcode (eg 'animated fadeInLeft eds-on-scroll') and place it in the CSS Class field of the module where you want to show the animation.
Images are only used for demo purposes and may not be used.
For optimal use one work / write in text mode instead of visual mode
Support is provided via following e-mail address : stefan.mertens@webseiten-fuer-jeden.de
General Note: You MAY need to purchase the Divi Theme or the Elementor page builder to use this product. Please see the product description notes above for more information.
You may also like these items