BoldGrid – TEST WORDPRESS WEBSITES FOR FREE IN THE CLOUD
Free
Live Preview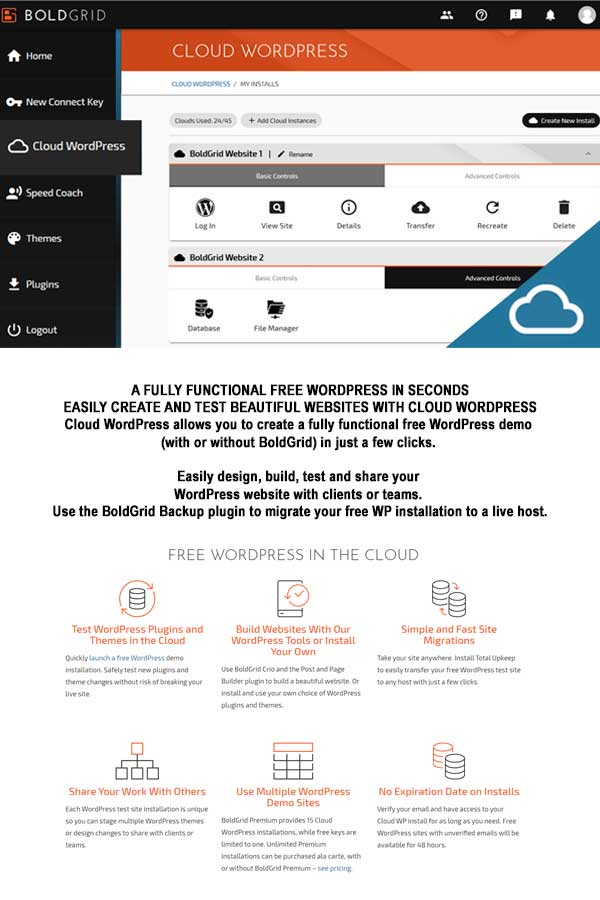 EASILY CREATE AND TEST BEAUTIFUL WEBSITES WITH CLOUD WORDPRESS
Cloud WordPress allows you to create a fully functional free WordPress demo (with or without BoldGrid) in just a few clicks. Easily design, build, test and share your WordPress website with clients or teams. Use the BoldGrid Backup plugin to migrate your free WP installation to a live host.
SHARE DESIGNS OR MOCKUPS WITH OTHERS
Each Cloud WordPress installation comes with a unique access link to share with teams or clients. Create multiple users in the administration panel for your Cloud WordPress instance for complete collaboration.
TRANSFER YOUR WORDPRESS DEMO SITE TO THE HOST OF YOUR CHOICE
When you're ready, use Total Upkeep to quickly and easily migrate your Cloud WordPress installation to a permanent domain.
Simply install Total Upkeep on both WordPress sites, create a backup archive on the first site, then restore that backup on your second site.
ADVANCED CONTROLS FOR PREMIUM USERS
Recommended for advanced users, Premium Cloud WordPress includes a file manager and access the database. In-depth testing of new themes, plugins, or other functionality is easier than ever!
These advanced controls are also a great way for intermediate users to dig deeper "under the hood" of WordPress without risk of breaking a production site or your server.
INSTANTLY TEST ANY WORDPRESS THEME OR PLUGIN IN THE REPO
With BoldGrid's Cloud WordPress you can create one-click WordPress installations to test any theme or plugin in the WordPress repository. You and your users can build a custom link to launch a FREE WordPress instance pre-installed with the plugins and theme in the URL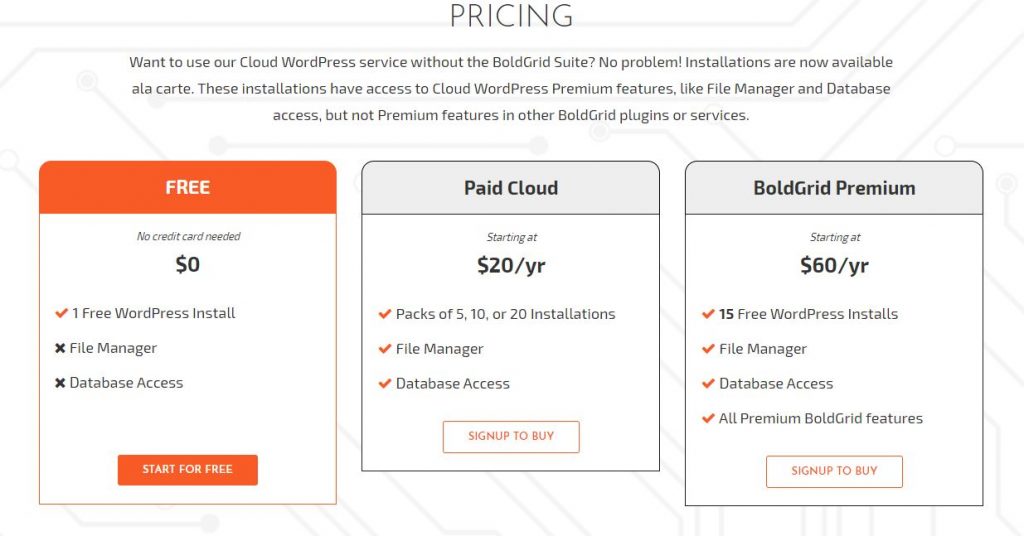 You must log in and be a buyer of this download to submit a review.
---
Licensing is as on the referred site.
*Support is provided by vendors directly.
Please login to access the support form. you can do so here