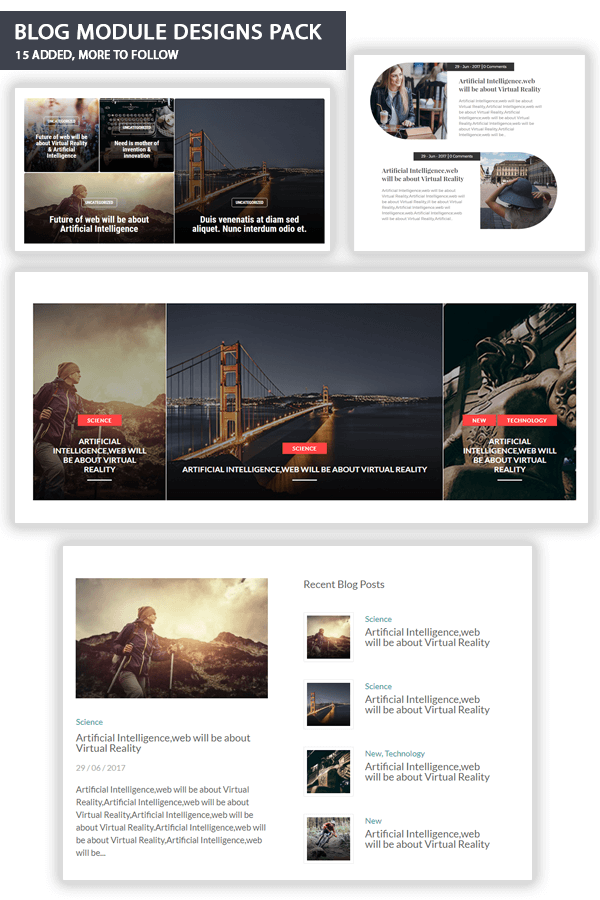 Update : Added 4 more layout designs for blog modules.
We have created 16+ variants of Blog designs that are completely unique from the regular Divi blog module layouts.
( ⚠ Please note that all the module designs work nicely without pagination. However, if you need paginated content, we can help you by doing custom code)
Technically speaking, The default code of the blog module does not allow such designs. So, we have implemented jQuery based layouts and added excellent styling to them. Simply purchase, download and open the zip files and follow the instructions within.
Requirements :
Divi ????
JS Support
Notes : Please note that these stylings are mostly based on jQuery wrappers. So, the jQuery code should run to make things happen.
Few Sample Screenshots




---
Changelog:
1.4.2
Oct 5, 2017 Version updated and added more feature
1.4.1
Modules updated with Divi 3.0.75
1.4
Few Bugs Fixed
1.0
First Release
Unlimited: You may install this product on any number of websites that you build for yourself or your clients. You will receive 6 months support – premium support charges may be incurred after this period. Updates are for the life of the product.
Single Product purchase is subject to one site license only.
Please be aware that you will need an amount of experience in Divi theme and WordPress to take advantage of our themes and module designs.
Please make your decision to purchase based upon your skill level to see if our products fit your needs. Due to the nature of Digital Downloads, Refunds are not possible – please ensure that the product you are buying will do the job you want it too.
All support for products is handled by Vendors and contact details will be included in the download packages. If contact details are not found within the files, please do contact us and we will be happy to put you in touch with the vendor concerned. 
*Support is provided by vendors directly.
Please login to access the support form. you can do so here