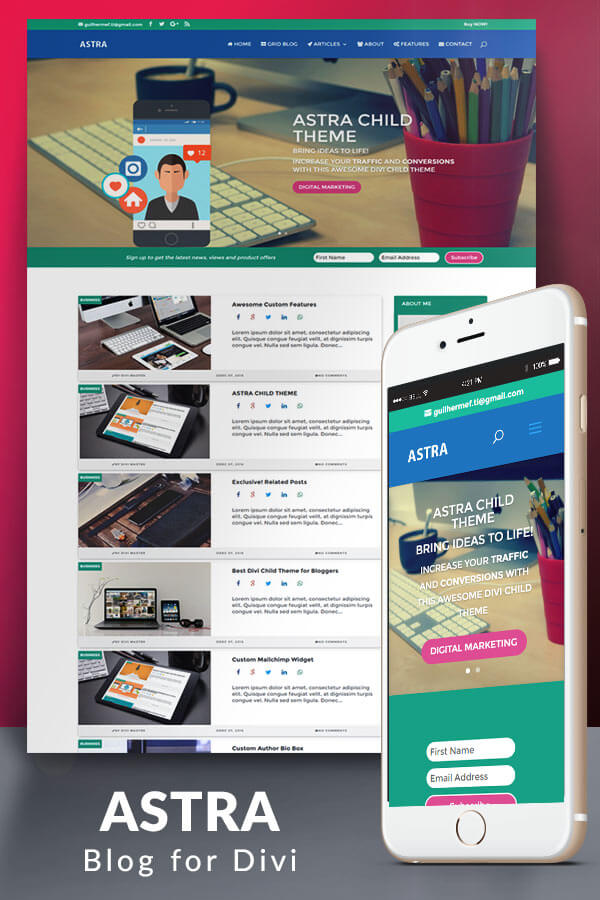 Astra is an exclusive Blog Child Theme designed for Divi Theme!
With many exclusive features and customizer options including custom widgets, custom single.php and index.php, Custom Meta Posts, Social share buttons with the new Whatsapp sharer for mobile users, exclusive Author Bio-Box and Related Posts.
With an totally redesigned Custom Blog Module you will have a beatiful blog to start your web business;
Ideal for Bloggers, Writters, Freelancers and agencies who want to grow your traffic rate, this theme could even be used as a Starter Theme for any kind of business
Now you can blog with Divi like never before, increase your traffic and conversions with the Astra Blog Child Theme.
Current Version: 1.0.2 – Auto-Updater added
Features:
The child theme include 4 PAGES LAYOUTS.
INCLUDED IN YOUR DOWNLOAD:
Astra-Pack.zip FILE wth:
Astra.zip (child theme file)
AstraThemeLayouts.json
Astra_Theme_Options.json
Astra_Customizer_Settings.json
Astra-Child-Theme-Guide
Astra.zip contains:

functions.php
index.php
index-fw (custom fullwidth style for archive pages)
index-grid (custom grid style for archive pages)
single.php
style.css
/INC Folder:
astra-options.php
DcmCustomBlog.class
template-tags
/INC/CUSTOMIZER Folder:
astra-customizer.class.php
/INC/WIDGETS Folder:
astra-about.class
astra-aweber.class
astra-mailchimp.class
astra-pop-latest.class
astra-latest-posts.class
astra-pop-posts.class
/JS Folder:
This Child Theme Requires:
A Hosted WordPress Site
A Domain Name
Divi Theme
---
Changelog:
Current Version: 1.0.2 – Auto-Updater added
You may install this product on any number of websites that you build for yourself or your clients. You will receive 6 months support – premium support charges may be incurred after this period. . Updates are for the life of the product.
*Support is provided by vendors directly.
Please login to access the support form. you can do so here