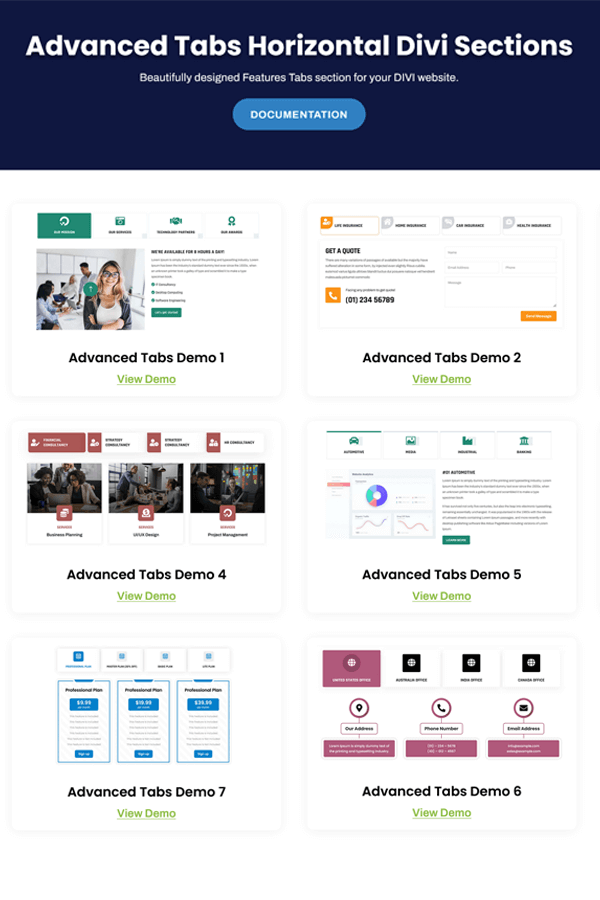 Horizontal Advanced Tabs Divi Sections lets you add a tabbed section anywhere on your Divi site. It allows you to represent a large amount of information concisely within a small arena.
You can display portfolios, Products, Testimonials, Teams, and anything you want. It gives you complete control over the layout.
Advanced Tabs Horizontal Divi Sections for Divi allow you to add any information you want in separate tabs. You can add as many tabs as you need. Make your website's appearance look classy and neat.
Key Features:
– 7 Pre-Made Styles
– Tabs are perfect for presenting a large collection of content in one viewable section of your website.
– Fully responsive and touch-friendly.
– Fast, lightweight & powerful.
– Simple and Easy to Setup
– All Major browsers supported
– Support within 12 hours
Quick Support: If you need any help or have any questions please contact our support mail layoutdivi@gmail.com / support@layoutdivi.com
---
Changelog:
Version 1.0 – February 06th, 2023
- Added 7 Advanced Tabs Horizontal Divi Sections
Checkout the documentation first and if you still need help open a support ticket.
View Docs
*Support is provided by vendors directly.
Please login to access the support form. you can do so here