Dokkoon Shop is a wholesale supplier of teak wood products from Chiang Mai in Northern Thailand. They needed a website to promote their business and showcase their products. They needed a catalogue style site for their assorted teak products and for the site to be available in both English and Thai languages.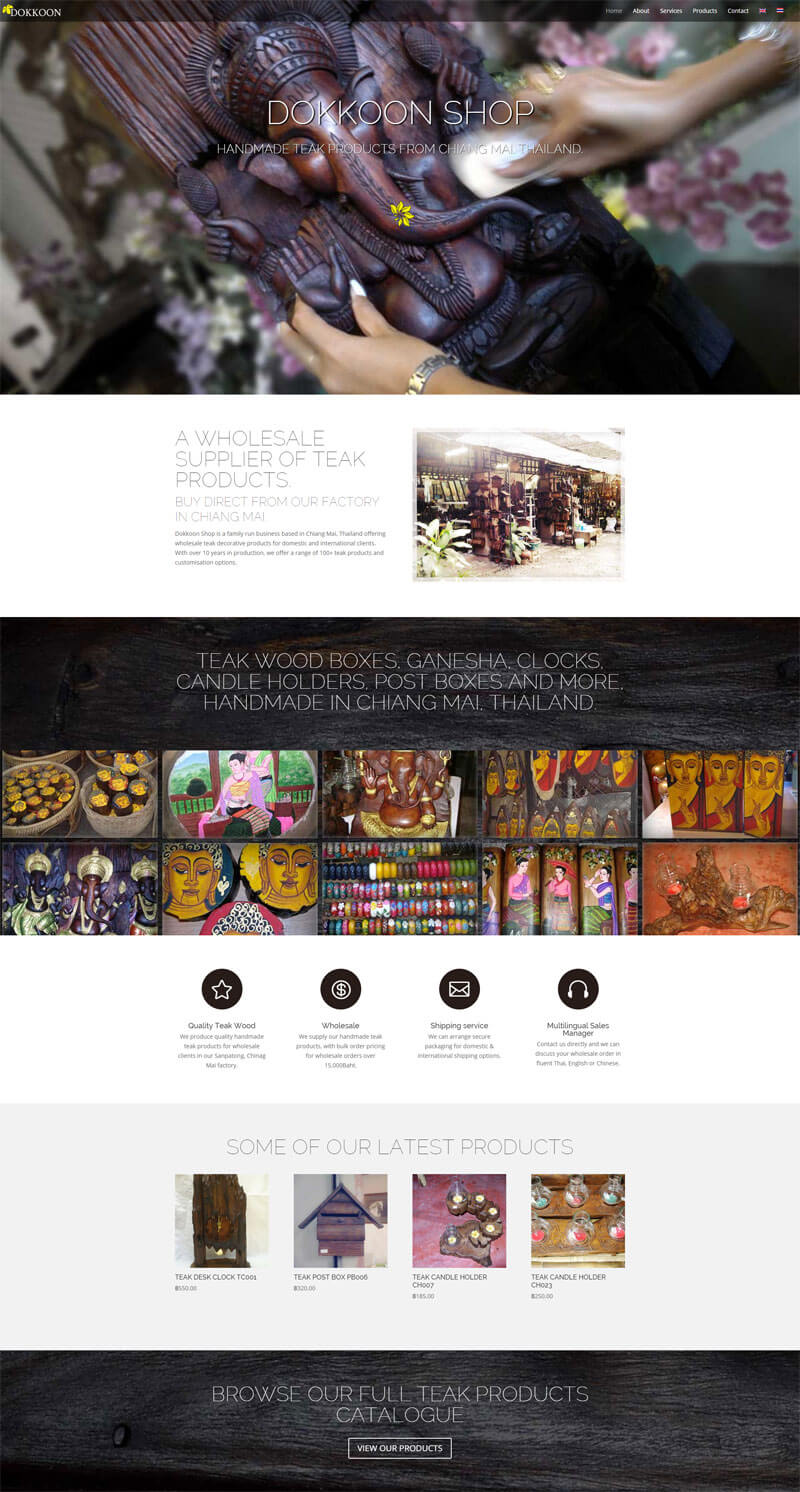 The site was created using the free Dividevelopers child theme and extended further using Woocommerce and Ceeceppa plugins.
Woocommerce is a great plugin for managing products and with the help of a free plugin called Woo Commerce Catalogue Mode you can hide the purchase buttons, shopping cart and checkout pages, leaving a powerful catalogue of products that is easily managed, displayed and updated. The products still have the (wholesale) prices and can be organised into categories, tagged for easy navigation and searching. With Woocommerce teaming up with Automattic, you can be sure of big things to come from them.
For the Thai language integration, the free, yet surprisingly good, Ceceppa Multilingual plugin was used to quickly and easily create a /en structure for the English pages and /th for the Thai pages. The plug-in is simple to work with and by adding the Ceceppa Multilingua support for WooCommerce you can add translations for products, product categories, product tags, and if used, cart and checkout pages too.
The support is also very good for Ceceppa. When a Woocommerce update broke my site I posted on the WordPress support forum asking for help. Within a couple of hours the creator of Ceceppa had fixed the bugs and released an update to the plugin. A lot of work goes into these plug-ins, so think about making a donation to the developer if you use, and like, it.
The rest of the site is clean and simple, using the basic building blocks that came with the Dividevelopers child theme along with some nice images of the products and some subtle wood texture backgrounds. A simple, yet effective site, made using some very good free products.