Sometimes when you're a 'new' Web designer – you won't have a portfolio. This can be a bit awkward – to say the least.
You: 'Hello dear new prospective client, I am a web designer'
Them: 'Hi web designer, do you have a portfolio you can share with us so that we can evaluate your work?'
You: 'Err, actually, umm, no I don't as I have just finished my course on Linda dot com/university/college and I only have the small snippets of code and a few examples that I did too'
Them: 'Oh'
What the hell do you do how?
Why  not think about building a small portfolio of 'Demo' Sites, you could think about Photographers, Doctors, Dentists, Lawyers, a couple of fortune 500 type sites and even local businesses like Electricians, plumbers and landscapers.
It's a great way to develop your design and copywriting skills too.
By using pretty much any WordPress theme you can practice all sorts of things like making the nav bar sticking or transparent on scroll – centre your logo and a variety of CSS tricks and cool animations.
Or, you could do what a lot of people have done which is build their web businesses on Divi.
With so many opportunities to put in literally what you want from photography galleries, making the pages feel more dynamic to being  'out of the box' responsive. You now have an opportunity to develop pretty much any web site you want.
We developed a very simple Divi 2.4 compatible FREE theme last week and it currently stands at over 500 downloads – with this theme, you can use it as a base for your own portfolio examples.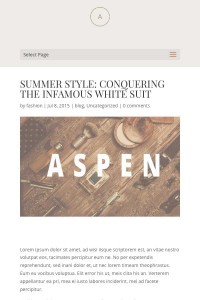 There are great scrolling effects, the nav menu's are to die for and with everything clearly labelled in the dashboard from CSS edits to positions of images the Fashion theme gives you a head start.
You could always look at our premium themes as a head start too – with some at just $20.00 and more on their way – you can start building your portfolio from the get go – every business has to invest – why not think about investing in yourself for once and building a portfolio of fantastic websites the easy way.
[et_pb_shop admin_label="Shop" type="recent" posts_number="12″ columns="2″ orderby="price" /]