Often times I see SEO Experts suggesting that a keyword research tool like Adwords, SEM Rush (free) and MOZ for example to look at your niche and find out the best keywords for paid or organic search. I have to say, I tried these tools and various others – each time I was thinking – Wow! this is really really hard work!
In my job as a Search Engine Optimization specialist I often get on a few zoom/skype calls to advise people on how to set up there site for search engines – I also have a course out there that does this too – and, in that course, I mention using Google for looking at how they react to your search query and what 'alternative' options they come up with so that you can target those phrases or similar as well (synonyms) I also like to target Antonyms – no, it really works 🙂
Whilst doing some research – (scrolling through Twitter) I happened to come across two tools that will help you – one for an established site and the other for both established and NEW sites.
The first is Sitebulb – Here is what they say about it:
Sitebulb is a desktop website crawler that delivers instantly actionable insights and intuitive data visualizations
What I like about this tool is that you can download a free version with all the bells and whistles and give your site a really good audit – it tells you whats right, what's wrong (bad links) and what you can do to fix the issues.
Look at the documentation and if you are truly interested in making sure your site is as it should be – take a look  
The second item is of more interest to me as I like to do research – here's a screen shot of a search in google and how I get hints of keywords that Google like.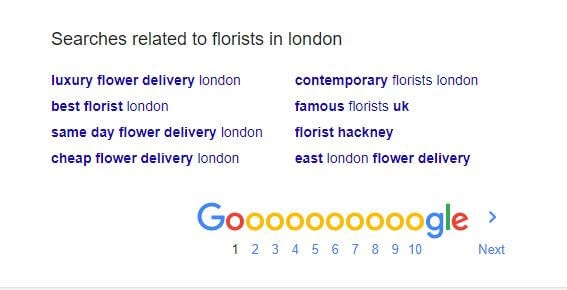 As you can see, Florists in London produces all these other queries that Google have produced results for, so, the tip of the day is use google to find your optimum key phrases and antonyms – right? – Wrong!
There is another way – its fantastic, I love it and you will too – it gives so much information it is untrue, its free and if you are serious about finding out how to promote your business online – organically!
Enter: ANSWER THE PUBLIC!
Now, this little beauty is basically what I have been doing for years but oh, so much better – just type in your keyphrase or keywords and let the fun begin. I appreciate its a big image, but if you want to see it live – simply go here
I'm not sure I can espouse the full significance of this free tool. Once you get to see the results, you can easily notice what you have been doing wrong, make it right and even add zip codes to your queries as the results prove that users do that too.
So many website owners have difficulty finding the right phrases or search terms to put into their sites content, page titles or headlines, using this tool, you can even download the contents as a CSV – I know of no better way to get the phrases that are specific to your genre for free – If you have another totally free way – feel free to comment below.