I have heard some people comment that all Divi sites look the same.  One look at the sites featured on Elegant Themes Showcase, and anyone can see, nothing could be further from the truth.
When used "out of the box", even I agree, the Divi theme has a distinct look that's easy to spot.  Like all WordPress themes, it has a Style.css file, chock full of preset attributes.  It also comes with a superbly easy-to-use page builder: drop-and-drag modules of many of today's most popular trends and features, that can be arrange in any order on a web page. Yes, Divi is so easy to use that even someone new to WordPress could use it over and over, and end up making very similar-looking sites.  But one could argue that about ANY WP-based sites using the same theme.
Divi provides the tools, like "artist's supplies", to the designer. Uniqueness comes in creatively arranging the modules, and by editing the Style.css file.  By altering the CSS, it is possible to completely change the look and layout of Divi. While these changes are best made in a Child Theme, Elegant Themes provides a Custom CSS box in the Appearance panel, that allows you to easily customize CSS.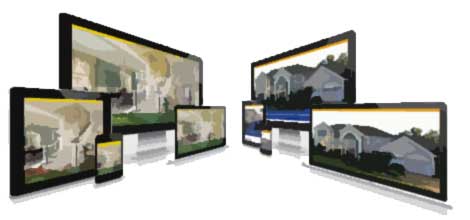 Conflict of Interest?
Recently, I had a situation where two local house painting businesses contacted me (on the same day) looking for new websites. At one time, I would have considered this to be a conflict of interest, and would have chosen to only do one site. But I have since determined that if I can give each client a unique site, designed in such a way as to not look like a copy of the other, written and presented in a way that, on its own, highlights the benefits of using that business, that meets each client's individual specifications, then I have done my job successfully, and there is no conflict.
I was, however, faced with this challenge: since these painters were direct competitors, they were bound to discover each other's sites at some point, and would see I created both. Without question, these two sites needed to be significantly different. At the time, I'd been working with the Divi theme for nearly a year, and I had become very comfortable with all of its features. Prior to using WP and Divi, I mainly built sites using the Joomla! CMS. But using Divi with WordPress had dramatically increased my productivity, and my first thought was to use it for these sites as well. But I admit, I was concerned about them looking too similar. I briefly considered other popular themes, but the more I looked at them, the more I realized that, with all the different modules Divi has in its arsenal, and enough CSS customization and the right content, I could make the two sites stand apart.
 Challenge Accepted!
The first step was to plan out two separate designs. To change up the layout, I used certain modules exclusively on one site and not the other: portfolio carousels on one site, and single, large, parallaxed images on the other; a case study is featured on one, while a professional video is showcased on the other. Then I changed the CSS to alter color schemes, fonts and logos.
As a member of the Divi Theme Users group on Facebook, I had access to a whole community of designers sharing ideas about how to make Divi unique. On one of the sites, I included custom code shared by Vlad Patrascu, to make the homepage slider completely fill the screen, and reposition the navigation menu on the bottom of the page when first loaded. When the client asked, I made the logo display larger with a little tweak to Vlad's CSS.
As it turned out, one painter wanted to specifically target a higher-end, larger budget customer, while the other wanted to be sure his visitors knew he was available for homeowner — and commercial — jobs of any size. The final touch, I wrote strong, uniquely-voiced copy and assembled a beautiful collection of images to represent the work of each client, that would speak directly to the differing target audiences.
The Winner is…
Both, of course! Both websites have their own look, and make their own statement, and reach their own audience. Because Divi has so many options, modules, and customizable CSS, the challenge to make each Divi site unique, is not only possible, it is easy.
Site #1: Steve's Painting Inc
Site #2: Touch of the Brush Painting
So, you see, with Divi, the only limit is your own imagination.
by: Kathy Kroll Romana, Owner, VivaDesignStudio.com