Page titles for your site are important because they help visitors navigate through your website pages. They also help people find the information they are looking for. It seems that there are two thoughts on the subject of titles, which we will discuss.
The first school of thought is that you should stick with a conventional naming scheme for your pages. This makes it easier for your visitors to find what they are looking for on your site. It also keeps your menu clean and concise. When thinking about the user experience, this is a fall back that will allow your visitors the easiest user experience. Most commonly you would see something like this:

The second thought is that if you want to be hip and stand apart from the crowd, you should get creative in your naming. Done correctly, it can help your brand shine through. Being unique in a large market can help set your brand apart from the rest. Depending on your industry, it can also help improve your SEO results and help expand the market for your products.
Your Home Page
I debated whether or not to include alternative titles for home in this blog, and the conversation I had with one of my clients won out. I talked her out of it, and I don't think this is a place to be creative. You need to give visitors a way to get back to where they started, so 'home' it is.
Your About Page Title
The About page, where we sell ourselves to our visitors, this page title should fall in line with your branding. Are you selling experience and knowledge? Shoot for the titles that at the top of the list. Are you selling personalities or appealing to a softer side? Shoot for the titles towards the bottom.
The Company
Meet Your (or the) Experts
Who is insert company name?
Experience
Knowledgeable
Our Details
Meet the Team
Team
Who We Are
The Crew
Crew
Our People
People
Our Story
Profiles
Services / Products and Creative Title Ideas
There is no right or wrong suggestion for your product and services pages. I recommend using the Google Keyword Planner to see what customers are searching your industry for. The key is to make it descriptive. Take the attached screenshot for the product "pottery", blue pottery has more searches than handmade pottery, if you replace 'products' with handmade blue pottery you have great alternative page title and the side benefit of SEO!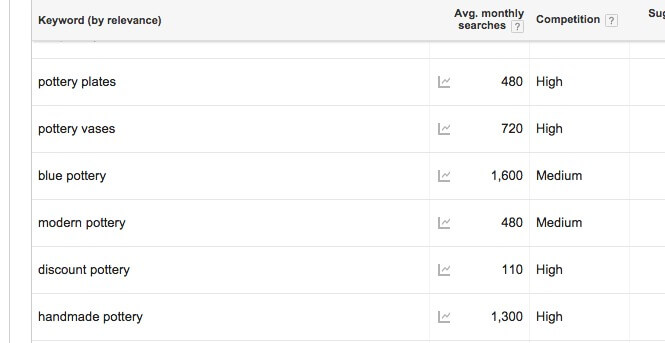 Blog Titles
Everyone knows what a blog is, right? But what if you are using your blog to provide specific information to your customers? Why not rename it? I've used many different titles for blogs in the past, my favorite being "fishing reports" on a fishing guides' website. The client blogs about their recent trips, so why not let it be their weekly report instead of just a "blog".
Alerts
Tips
Helpful Information
Insert your product/ service Reports
Thoughts
News
Your Contact Page Title
So boring and and formal. Everyone has a contact page, how can you change it up? I've seen a lot of great page titles for contact pages. If you are shooting for strategic start at the top of the list. If you're looking for friendly, the titles at the bottom are better for you.
Communicate
Reach
Interact
Connect
Start
Partner
Consult
Schedule Consultation
Ask a Question
Work With Us
Say Hello
Drop Us A Line
Get In Touch
Talk To Us
Testimonials for your Website
I don't normally give testimonials a separate page, I mix them throughout my website designs to take up space where needed or place beside products they are reviewing, but for those that create full pages of testimonials why not make it fun?
Shout Outs
Praise
Client Love
Recommendations
Buzz
Inspiration
Endorsements
Homage
Reviews
Customers are saying…
Our Fans
Who Likes insert company name
FAQ's and Related Pages
I've used the simple FAQ title on many of my clients' sites, because it's easy and people know what it means, but there are just as many simple alternatives to this page title. You can call it Frequently Asked Questions, questions and answers as well as other names such as the following:
Answers
Questions
Help
Ask Us
Read This
Common Questions
More Info
Quick Facts
Knowledge
Now that we've got options and have discussed them, what do you think about my ideas for redesigning the Elegant Marketplace header?
Also, be sure to stop by and check out some of our awesome Divi Child Themes, Divi Extensions and our Divi Layouts created by experts to help take your website design and layout to the next level. Fast and Easy.

Do you have any page titles that you use that aren't listed here? We would love to hear your ideas, feel free to leave a comment below!