Over in the Divi Theme Users Group – we have seen phenomenal growth for what is essentially a bunch of people that help out a bunch of people to develop, fix and give critiques on design challenges, supply helpful resources from css tips and tricks right through to SEO, online marketing and client relationship advice.
We are not going to say it hasn't been a challenge! As an admin of such a large group and as co founder of Elegant Marketplace we have had some criticism about the way the group is run, how much advertising goes on for individuals and indeed ourselves here at EMP. The over riding thoughts though, are very positive;
'The most helpful, friendliest approachable, safest place to be'
'I love this group'
'I don't know what I would do without all you people helping me' and so on. 
We have clients, 'Noobs', High End Developers and SEO experts aplenty and we love having all of you here.
When Eileen started the group, we are sure she did not have an inkling of how that would effect so many people and how indeed that one day a Marketplace would be born. That idea has been a blessing for so many. Not least of all the developers who now have their own products selling in their own stores – a real kick start to this fantastic theme marketplace.
Thousands and I mean thousands of people have benefited from the skills of dedicated entrepreneurs who have contributed to the Divi Nation. We even have a community podcast developed by Elegant Themes and hosted by the affable Nathan B Weller – a skilled Developer himself, a plethora of Divi Developers with their own shops and even another Divi specific Marketplace spawned by a developer who we helped sell their first plugin on EMP.
We have free layouts from our own developer partnerships and of course People like Craig Longmuir who uses his site to show off the various talents of individuals and businesses in the Divi Nation and supports the site by having plenty of affiliate links on it in the hope that a user will use his affiliate ID to purchase a product or service. Michelle Nunan of Divi Soup who has plenty of recipes for fixes in her Kitchen and many many more.
We have experienced a massive growth in the need and the supply of child themes, layouts and plugins for the community and of course, the need to be able to fix some issues on a premium level when the free resources simply cannot cover the issue – hence the birth of Divi Fixr which has helped lots of people since its inception and gets lots of enquiries every single day.
The development of our own learning platform was complete and then we get notification that Divi 2.7 is on its way – we took the decision to delay the launch and make sure we include as much as possible in the ongoing education of users both new and experienced.
When we officially launched on the 15th of February 2015, we had a good idea of what laid ahead of us, hard work, investment in time and money and of course praise and criticism in pretty much equal measure.
Our friends over at Elegant Themes have also pitched in to help the celebrations by offering 3 – yes, THREE LIFETIME UPGRADES to 3 lucky people – That's a massive giveaway and we are thankful to Nick and his team for giving us this opportunity of thanking our community in this brilliant way. To apply for this giveaway you will need to comment in the page below and we will choose a random winner in one weeks time – The winner will be announced on this page and our social media outlets and advertising outlets too.
We would also take this opportunity to thank all our customers, developers and of course the helpful, caring community that we have over on Divi Theme Users.
Here's to the future success of EMP and you!
Here's a special thanks to all the developers that have helped Elegant Marketplace become the go to place for Divi Help and Solutions.
See who they are by visiting our store!
Eileen Lonergan and Andrew Palmer – Co Founders – Elegant Marketplace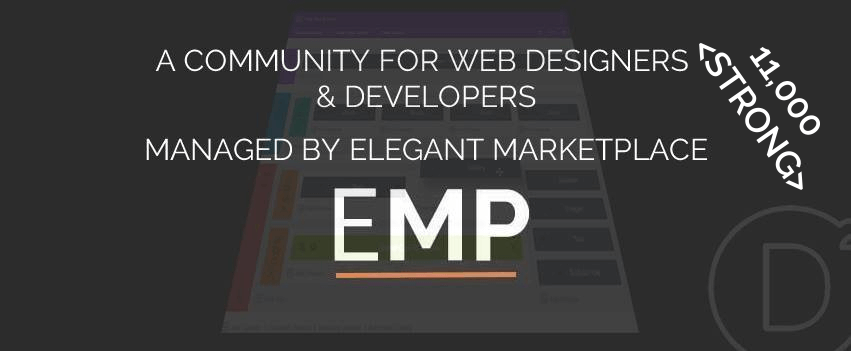 [et_pb_shop admin_label="Shop" type="product_category" posts_number="3″ include_categories="services" columns_number="0″ orderby="menu_order"] [/et_pb_shop]