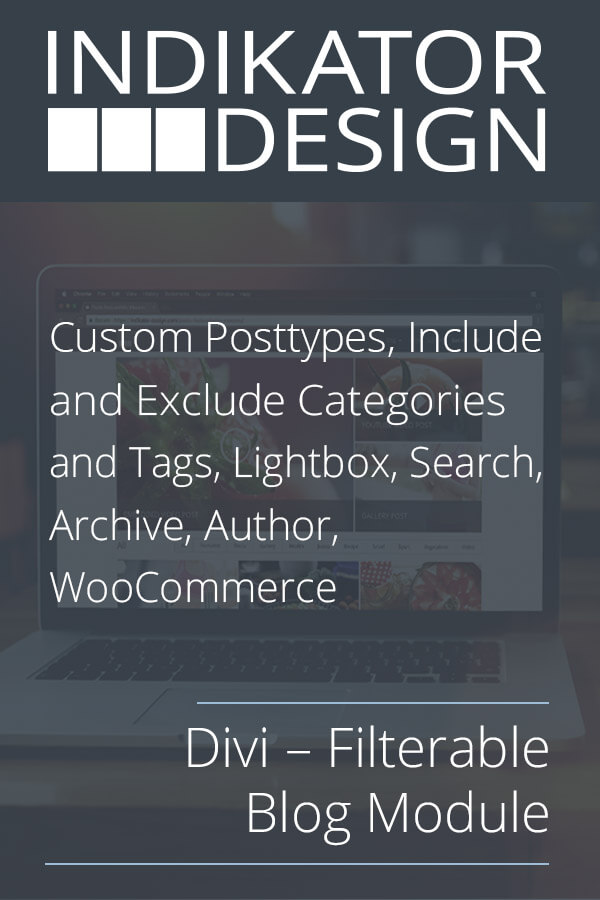 **********Fully Compatible with Classic Builder**********
**********Does not work in the Visual Builder please use the documentation link on how to use before purchase**********
Please note that DFBM can so far only be set under the old PageBuilder. We are trying hard to adapt DFBM to the new PageBuilder, an ETA can not be given at the moment. To activate the old PageBuilder go to Divi Options –> Builder –> Advanced
Then disable the latest Divi Builder Experience.
When you are done with your settings in DFBM, you can enable the option again. Just don't make any more changes to DFBM in the new builder.
In principle it also makes sense to enable the classic editor for the same tab, this disables the Gutenberg editor in the backend.
Use it on an unlimited number of sites. Check the license information below.
Read also the review of the Elegant Themes Blog: "Divi – Filterable Blog Module."
"Divi – Filterable Blog Module" is one of the ideal ways for users to filter through posts, projects, products, and any custom post-type in a much more advanced way than users can typically use the Divi Blog module. Rather than just hiding items, the "Divi – Filterable Blog Module" creates a new paginated Divi Blog or advanced content feeds from your different Post Types. Include or exclude posts by categories and tags for your Divi Blog, build your search-, category-, tag- and author pages with this new module and style your WooCommerce Shop page as you like it. It is also fully compatible with all standard WooCommerce filters and search widgets.
This advanced Divi Blog module was developed with the focus on high performance and uses advanced Ajax functionality. With "Divi – Filterable Blog Module" you can include or exclude tags and categories, you can add a numbered pagination or use ab add-more-button and freely customize your Divi Blog and all of your search- and archive-pages.
Include and Exclude posts by categories (and sub-categories) and tags
Set up to 3 featured posts ordered by their id's
Use it for your search-, category-, tags-, author- and WooCommerce pages
Works with every custom post-type (posts, projects, WooCommerce products and more..)
Fully compatible with the default WooCommerce widgets, search- and order options
Fullwidth- and Masonry Layout, modern CSS Flexbox-System
Lightbox support for featured images, galleries, videos
Numbered pagination or an add more button
Determine the same height for the featured images
You can show the excerpt, content or hide both. You can also limit the excerpt/content word count
Load new posts by Ajax for better performance
Fully compatible with the browser history API
Set your desired posts per page number, your offset and order your posts by ASC or DESC, by date, title, author, modified, random, comment count
Automatic updates directly from inside the plugin
Multisite compatible
CDN compatible
and Much More!
Each of these described functions is built right into the plugin. With "Divi – Filterable Blog Module," you will be ready to create the Divi Blog of your dreams all with just one great plugin. "Divi – Filterable Blog Module" can make your blogs faster to load, improve browser compatibility for display, improve organization and drastically improve navigation for all of your users. This simple to install plugin can make a drastic difference in your website as a whole.
Please note that at least PHP 5.6+ ( better is PHP 7.0+ ) must be installed on your server. You also need the Divi- or Extra-Theme and perhaps WooCommerce (if you wanna use it). The plugin is not compatible with the Standalone Divi Builder plugin. Photo Credits
The module is engineered to create complex feeds, archives, etc. But it is not possible to implement the module several times in a single page.

Author: Bruno Bouyajdad » Indikator Design
You don't know exactly how to start or you run into issues? Here is a link to the documentation. Doesn't help? Then just contact me via the Support Form.
For pre-purchase questions use the comments below or just ask me on Facebook.
Changelog
— 1.1 —
Fixed to work with the latest Divi and WordPress release.
Native lazy load for images has been disabled on pages with DFBM to be compatible with loading images before displaying the content. A better adaptation will follow with one of the next updates.
Fixed some issues with CSS and JS depending on the new specifications from Divi and WordPress.
— 1.0.10 —
Changed updater to the EMP EDD updater class
Fixed an issue with the separator for the comments
Fixed an issue if dropshadow is set
Fixed an margin-issue on search results
Removed textdecoration uppercase from the header
— 1.0.9 —
For the display "no more posts for this category" a layout can now be embedded from the Divi Library. Read more about this in the section "Can I customize the message "no more posts for this category"?" in the FAQ linked on top
Fixed typo "Filerable posts" in blog module
— 1.0.8.8 —
URLs are now pulled out of the content again
— 1.0.8.7 —
Added the ability to add category and tag slugs that do not contain "cat" or "tag". Read more about this in the FAQ under "Can I use it with my own registered custom post types?". The FAQ is linked on top ("View Docs")
If images are present in the content / excerpt, they are now automatically detected and filtered out to avoid display problems
Fixes an error when using the offset with a PHP version prior to 7.0
— 1.0.8.6 —
IMPORTANT NOTE: It requires that Divi 3.0.91++ is installed! Otherwise you can find version 1.0.6 in this download also.
Fixes an issue with the latest Divi version. An attempt was made to add an empty object to the Masonry layout
— 1.0.8.5 —
Adaptation to the new video overlays
The Plugin Update Checker Library has been updated to version 4.4
Removes the error that "Disable Translations" was no longer visible under the "Divi Theme Options"
— 1.0.8.4 —
You can now overwrite the text "Read More" for the buttons and the lightbox directly in the module settings
You can now overwrite the text "Add More Posts" for the "add-more" button directly in the module settings
Improved description for using the different font sets in the normal module ( not in the light module )
— 1.0.8.3 —
If featured posts are set, but no navigation, a margin-bottom with the value of article distance is now automatically set
Images are now always stretched to 100% in fullwidth mode
Fixes an issue when using tags
— 1.0.8.2 —
It is now fully compatible with the backend preview mode
Fixed an issue with pixelated images in the featured posts section
Some minor bug fixes
— 1.0.8.1 —
Fixed a bug that caused a fatal error in some development environments by a wrong class call
— 1.0.8 —
Fixed a bug that caused a fatal error in some development environments by a wrong class call
— 1.0.7 —
Added the new filter methods to images etc.
— 1.0.6 —
Introduction of the module "Divi – Filterable Blog Module Light", specially designed for development environments with lower performance
Added 4 new standard layouts: "DFBM-Author-Light", "DFBM-Search-Light", "DFBM-Archive-Light", "DFBM-Shop-Light"
Added the filter hooks "dfbm_post_meta_before", "dfbm_post_title_before", "dfbm_posts_content_before", "dfbm_posts_content_after", "dfbm_posts_bottom_after". All of them are assigned with the current $post ($post-object) as first parameter, and $featured (bool true/false) as second parameter
Added a new fade-in animation for the blog post items. It's available in the module settings in the "Layout"-section from the "Content"-tab
Added the detection of a config file in the child theme used under the path: "/child-theme/includes/dfbm-config.php". An example file is located in the folder "/helper/" and can be easily moved and adjusted. But you need to change the suffix to ".php". Please follow the instructions on top.
Added all archive layouts in JSON format to the folder "/helper/layouts/" to have the default settings easily available
Change from "dfbmTraitGlobals" to "dfbmTraitConstants". This is also only integrated once. As a replacement, the Singleton Pattern function DFBM() is accessed to get constant values
The updaterscript has been updated
Fixed a margin-bottom CSS bug for featured posts that was caused by CSS rule changes in the last Divi update
Fixed a problem where the page variable was calculated wrong when the offset was enabled with the "add more" option
Fixed a problem where a redirection to the product has occurred in the shop index although the lightbox was switched on
— 1.0.5 —
Added compression for newly created templates.
Added the filter hook "dfbm_query_args_output" to the query args output.
Added the ability to close navigation elements on mobile devices when clicking on a category entry.
Fixed a problem with a function call that could lead to errors when there were videos in the feed.
Fixed an issue with the CSS output for positioning images.
Fixed an issue with the CSS output of the add to cart button by using the content as overlay.
Fixed an issue with translation for the "Read more" link in Lightbox.
— 1.0.4 —
Improvements for category and tag checkboxes in the backend, since a large number of categories and tags caused loading errors.
Fix in the updater to comply with the following specification: Force evaluation order for PHP 7 conpat
A CSS error for the fullwidth layout with the content below has been fixed.
Removed deprecated __autoload from the autoloader class.
An error in the calculation of the offset was fixed.
— 1.0.3 —
Implementation of the extraction of plain URLs from the content. This can be prevented by setting the hook 'dfbm_strip_out_plain_url' to false.
— 1.0.2 —
Fixed a bug that caused an error when no video is inserted in a video post
Added the filter hook 'dfbm_hide_scrollbar' to prevent the scroll bar from being removed
— 1.0.1 —
Fixed a bug where links were truncated by enabled Wordcount limiter
Added the filter hook 'dfbm_column_collapse_max_width' to control the column breakpoint, if et-content-width is set to a high value
— 1.0.0 —
Initial Release
---
Checkout the documentation first and if you still need help open a support ticket.
View Docs
You can install this product on unlimited websites that you build for yourself or your clients
You may not install this product as part of a hosting offering
The support does not include customization
You will receive 6 months support
We understand that there can be issues whilst utilizing out of date browsers. Please ensure you use up to date browsers when using this product.
Please be aware that you will need an amount of experience in Divi Theme and WordPress to take advantage of this plugin.
Please make your decision to purchase based upon your skill level to see if this product fit your needs. Due to the nature of Digital Downloads, refunds are not possible – please ensure that the product you are buying will do the job you want it too.
For support requests please have also a look at the EMP FAQ or use the support form here on this page.
*Support is provided by vendors directly.
Please login to access the support form. you can do so here