A WordPress Gallery Plugin Like No Other!
Stunning gallery layouts, responsive, retina-ready, lightning fast, easy to use & Gutenberg Ready!
Buy Now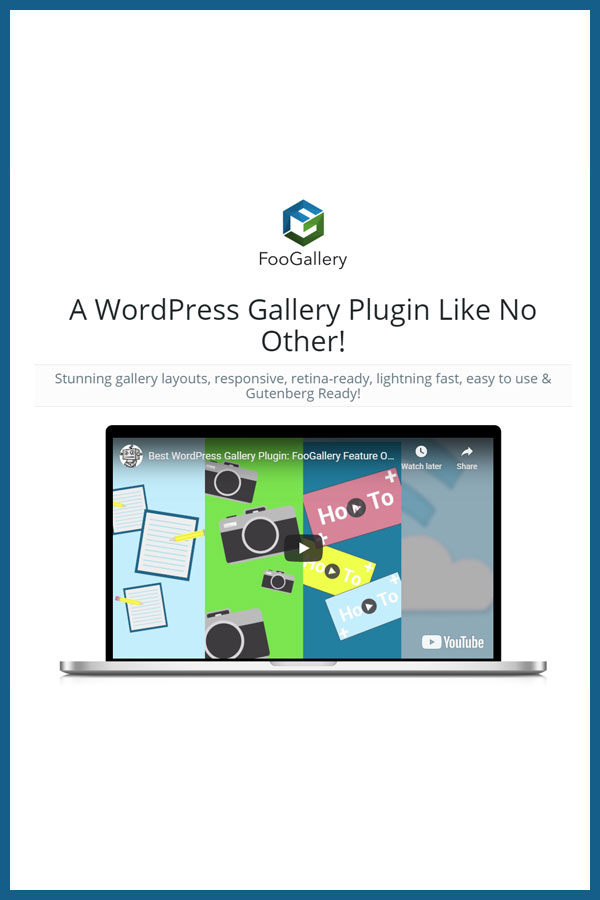 Tired of Bloated and Buggy Gallery Plugins? So Were We.
FooGallery sets a new standard for WordPress gallery plugins. Developed by the same team that brought you FooBox, FooGallery is the most solid and user friendly gallery plugin ever made.

Media Categories
Organize your images and other media using tags or categories, or both! Utilize existing taxonomies from other media plugins too!

Frontend Filtering!
Finally! A gallery filtering and sorting solution baked in. Utilizing media categories and tags, you can let visitors view your galleries like never before. See for yourself here.

Pagination
Add pagination to your larger galleries. Choose from dots, page numbers, load more or infinite scroll.

Drag and Drop Reordering
Arrange your images exactly the way you want with the built-in drag and drop reordering feature in every gallery you create.

Gallery Templates
Choose from several included gallery templates for each individual gallery you create. Didn't find one you like? Easily create your own!

Lightbox Support
FooGallery works seamlessly with FooBox Free or Pro. We've also included support for other lightboxes for maximum flexibility.

NextGEN Import Tool
NextGEN is a fine gallery, but has become too complex for some users. Easily import and convert your NextGEN galleries and images into FooGallery.

Visual Editing
FooGallery uses the native WordPress visual display and editing features. Easily add a new gallery or edit your existing galleries right from your page or post.

Copy to Clipboard
Of course, each FooGallery also comes with it's own shortcode for use anywhere on your site. Just click the shortcode once and it's automatically copied to your clipboard.

One-Click Gallery Page Creation
After creating a gallery, easily create a new page on your site and insert your gallery, all with one simple click. Saved by default to Draft mode, or Publish immediately.

Video Galleries
FooGallery Pro will automatically support the creation of beautiful video galleries, which can be imported from a number of different popular sources.

And So Much More...
FooGallery includes so many features, you'll be amazed. To see more demos and example galleries, visit the demos link below or simply give it a try right now.
What is the cost? Not that much. 😇