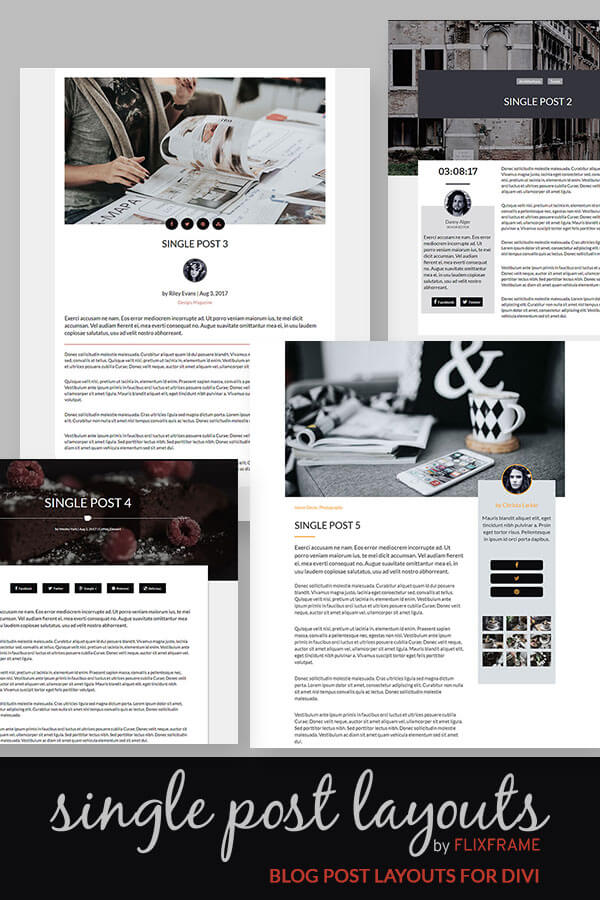 5 Beautifully Styled Single Post Templates for Divi designed by flixframe
NEW! October 2019 – Version 2.0 has just been released, including Post Templates for use with the new Divi 4.0 Theme Builder! Instantly style all of your blog posts without having to enable the Divi Builder on individual posts!
Bring your tired-looking posts to life!
No more boring, samey, yawn-inducing posts! These uniquely styled Single Post Templates for Divi will transform your posts into elegant, sophisticated and stylish creations.
(and to our fellow developers – these templates will save you tons of money and time – just think how impressed your clients will be…)
NEW! This layout pack now includes 5 Divi Theme Builder templates that you can import into your Divi 4.0 Theme Builder and instantly apply to all (or selected) blog posts – without having to enable the Divi Builder on individual blog posts. This makes it very easy to change your post design in the future – just by installing a new Template!
It also still includes 5 (legacy) layouts (,json) that can be imported into your Divi Library, and used as usual by loading the layout on individual posts.
Detailed installation and usage instructions are included.
NOTE: this layout and Theme Builder pack is for use with the Divi theme.
You must have the Divi theme installed in order to utilize this layout pack, it is not included with the layout.
The Single Post Layouts by flixframe are also available for Anywhere Elementor Pro.
---
Changelog:
V2.0 - Oct 2019
Divi 4.0 Theme Builder Templates added
V 1.0 - initial release
Once purchased, you are free to use this Divi layout pack for both personal and commercial use on as many sites as you like for as long as you like. You cannot resell or redistribute the layouts or any of their parts to anyone else. Support is provided for 6 months from the date of purchase. The support does not include customization, general WordPress, Divi or CSS tasks and web-design services. Divi Diva will not be responsible for any conflicts due to updates by Divi, WordPress or any third party plugins or extensions.
Please be aware that you will need an amount of experience in the Divi Theme and WordPress to take full advantage of our layouts. If you intend to make customizations, a reasonable knowledge of CSS is also required. Please make your decision to purchase based upon your skill level to see if our products fit your needs. Due to the nature of digital downloads, refunds are not available.
*Support is provided by vendors directly.
Please login to access the support form. you can do so here