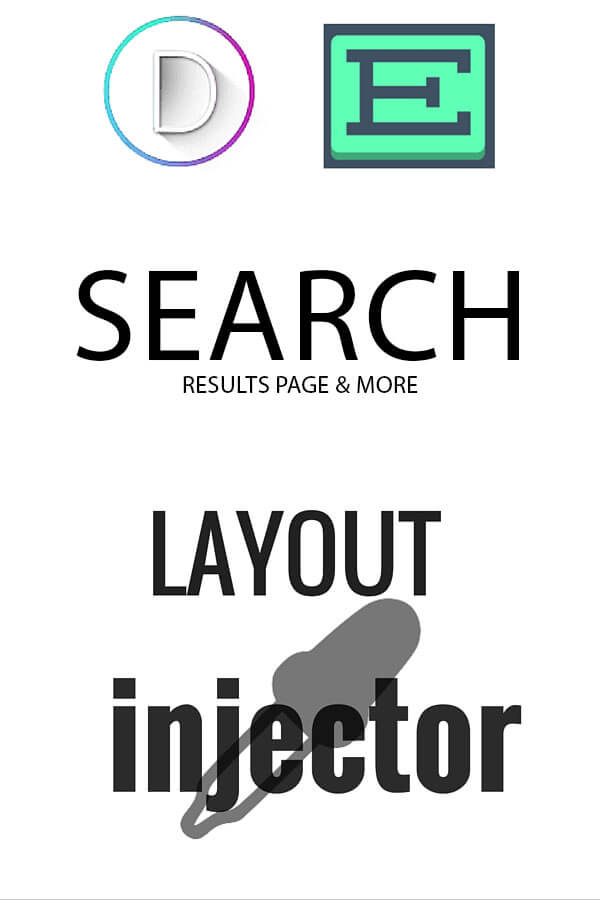 The Search Layout Injector plugin is designed to allow you to set up a custom layout for your boring old Divi search results page within WordPress. Much like the popular Woo Layout Injector plugin, you can use the Divi Library to set up a layout. Making use of many new custom Divi Builder Modules designed for this plugin you can set up your results page (featuring a new List layout along with Grid and Full width, much like the standard 'blog' module) without the need to do any coding at all.
You can even have a different search page for each post type. If you, for instance, wanted your blog search to look different to your product search or portfolio search then this does that too.. Along with the option to use the blank template for search results meaning you can completely build the page and make it a real feature.. thus plugin will not disappoint!
Even better there is now an autocomplete option. Start typing a few characters and the site will present some options to you. Advanced styling options have been added for size, font, colour etc so you can give it that customised look and feel!
One handy feature is the ability to optionally search in meta information.. this means custom fields attached to your content. In real terms it means it's easy to search the content of custom fields perhaps provided by plugins such as advanced custom fields or other bespoke means. In short, this will make your search more powerful when turned on. In addition to this I have also added a setting to search ONLY titles meaning if you are creating a more advanced lookup for registration numbers or something else when this will make your results more accurate. It's optional and configurable via the settings page.
A lot of sites demand consistency across the site and where you use the search so, using this plugin, you can easily configure the standard layout of your posts, pages and CPT. You can see this in action on elegantmarketplace.com whereby this plugin is used on the blog archive page and also individual blog posts.
Instructions
Install and Activate the plugin
Visit the 'Divi Library' page on the back end of your website
Click add new (towards the top of the page) and choose 'layout' from the little popup (NOT Global). Give it a memorable name (this is for reference only and is never used elsewhere)
Use the page builder to create your layout using the modules provided and save it
Visit the settings page for the plugin and simply choose the new layout from the dropdown relating to the search results and each post type as necessary.
That's it!
Each time you want to make a change to the layout just visit the Divi Library page and edit your layout as before. No need to relink or anything else. This really is a set and forget plugin!
Modules
Title. Adds the name of the post type item along with any meta information such as author, comment count, categories and the post date.
Content. Shows the content from the post type item
Featured Image. Self explanatory.
Search Archive. This is much like the 'blog' module that comes with Divi/Extra but with a couple of neat additions. Post type selection, a List style layout and image size selection
Search Loop Archive. This is a special module designed to use a layout within a layout. You simply create an archive layout and a loop item layout. The loop item can contain any other modules or layouts as you see fit and will be repeated for each item forming a neat archive page in any layout you like. As seen on my popular Woo Layout Injector plugin. Works brilliantly with my ACF plugin to show detailed information about your content.
Search Form – to allow you to set a post type for the search with various styling options etc..
All modules feature styling controls via the Advanced Design Settings page within the Divi Builder
Note
If you use the divi builder for your blog posts you should ideally write into the 'excerpt' box as well which means that the search results page can show a short summary of th content. If you don't then the excerpt will be blank in most cases. This advice is not specific to this plugin but a general rule of thumb.
For any support issues, please visit this link http://docs.tortoise-it.co.uk/
---
Changelog:
* < V1.1 * - Initial Release * * V1.2 * - Fixed responsive text size/line height issues * - Added more configuration options in advanced design settings across all modules * * V1.3 * - Some text changes, module fixes for styling and other options * * V1.4 * - Added option to show results on a blank template * * V1.5 * - Added options to show a different search results page for ANY post type. * * V1.6 * - Added autocomplete funtionality and subsequent styling options * * V1.7 * - Minor bug fixes around the autocomplete system * - Added licensing and auto update functionality * * V1.8 * - Added search in custom fields option. This allows for the search to be broader and include data from the likes of Advanced Custom Fields et al * * V1.9 - 22/2/17 * - Fixed search in custom fields option! * - Fixed a couple of php notices in the pt archive module * - Added option to hide module if no results in loop archive * * V2.0 - 28/2/17 * - Removed some PHP Notices for neatness * * V2.1 - 19/4/17 * - Added taxonomy filtering options on the search form module. This allows you to cause a search to be filtered by a taxonomy/term combination at search box level. * - Added querystring parameters for use on the search results page which will filter the results accordingly. These are sb_tax_[taxonomy_name]=slug. EG sb_tax_category=test in the URL would filter the search on the category called text * * V2.2 - 5/8/17 * - Fixed compatibility with 'subtitles' plugin. Disallowed superfluous html in the featured image within the archive module * - Added translatable (poedit) text within the search form module * - Updated single function output for supporting third party plugins (adding the 'the_content' filter on output) * * V2.3 - 22/9/17 * - Removed ET prefix on modules for clarity * - Loop Archive module - removed predefined layouts from loop layout field * - Settings page - removed predefined layouts from loop layout field * - Post type archive module - added columns and show pagination settings * - Post type archive module - fixed grid view * * V2.4 - 03/10/17 * - Fixed autoupdate system * * V2.5 - 06/11/17 * - Fixed autop issue in archive (basic) module * * V2.6 - 20/12/17 * - Added help text to "Blank Template" setting to make it clearer what it does * * V2.7 - 20/12/17 * - Added support for custom search parameters to the basic search module * - Added passthrough for the sb_tax_... parameter in the search form module * - Added title format for the search title module to allow site owners to edit the format of the "search results for xyz" line * - improved JS within the search form module so that multiple can be used on the same page without firing several ajax requests off * * V2.8 - 16/02/2018 * - Added search titles only option for greater accuracy when turned on * * V2.9.1 - 10/12/2019 * - Fix for issue with the Divi 4.0 theme builder *
Checkout the documentation first and if you still need help open a support ticket.
View Docs
You may install this product on any number of websites that you build for yourself or your clients. You will receive 6 months support and updates for lifetime, after which you may have to purchase a support contract in 6 month packages.
*Support is provided by vendors directly.
Please login to access the support form. you can do so here