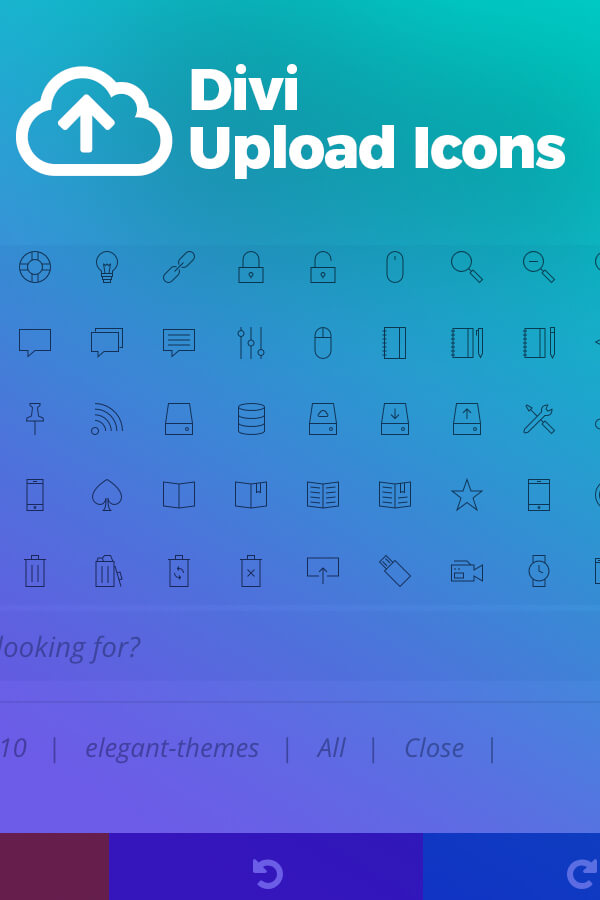 Notice: This plugin has been officially deprecated as of Divi 4.13. This version of Divi introduced a revamped icon system that Elegant Themes will no doubt continue to build upon internally so I've made the difficult decision to sunset this plugin so as to avoid any inconsistencies moving forward. Thanks to everyone who has supported its development over the years and the mission to help make Divi the best it can be.
Upload just about any web font icon set to Divi. 100% compatible with the Visual Builder and Backend Builder.
There is only one license for this plugin: Unlimited. As in unlimited sites and unlimited updates.
The answer isn't having MORE icons. It's having the RIGHT icons.
This plugin lets you upload just about any icon font (web font) you can find online and use those icons directly in the Divi Builder AND the Visual Builder in your projects. It also features full search and filter options available in both builders as well just incase you do want to upload many icon. Note: if you're uploading a few thousand icons you're going to notice a slight delay when the icon list first loads in the Visual Builder. You're loading A LOT of icons, after all.
(If you want to see what happens when you load this plugin up with over 5500+ icons from around a dozen different icon sets just for fun, I made a video about it. All I can say is that this plugin is a beast.)
I originally created Divi Icon King because I wanted more icons in Divi.
After about a year of browsing through almost 2000 icons looking for the right icons for each project I worked on, I realized more icons isn't the solution.
If outlined icons matched the site I was working on then all I wanted was outlined icons, not 1900 other icons I couldn't use.
On e-commerce websites you want some pixel-perfect e-commerce icons, not an additional 87 weather icons you'll never use that came with the icon pack.
This is a plugin for the designers among us who don't want to pay for and wade through 2400+ icons just to have access to the handful of icons they do want.
Compatibility
This plugin is 100% compatible with both the standard Divi Builder as well as the Visual Builder. It's also compatible with a ton of 3rd party plugins built by other esteemed members of the Divi community. However, new plugins are being made every day. If you come across a plugin that doesn't play nice with my plugin, let me know about it and I'll add the compatibility or reach out to the developer of the other plugin and see what we need to do to work together. We're all in this together!
Icon Fonts
Pretty much any icon font that is a web font will work with this plugin. Here are a few I've personally tested so far. More to come.
Font Awesome 5
Before you buy, you should know that out of the box, this plugin will not work with Font Awesome 5+ due to the way that Font Awesome 5+ uses the same unicode for multiple icons but uses different font weights to switch between icons. Divi applies the same font weight to all icons by default making this troublesome for Font Awesome 5.
That being said, it is definitely possible (with some tweaking and modifications to the Font Awesome 5 css files) to make it work with this plugin. If you want to take it upon yourself to do it, I wish you the best but it's beyond the scope of the support provided for this plugin.
The plugin DOES work with Font Awesome 4.7 and tons of other icon fonts that are freely available online, providing tens of thousands (maybe even hundreds of thousands) of icons to use in your projects. You won't even miss Font Awesome.
Support
The support is the same great support you've come to expect from all of our plugins. If you have any issues, drop me a message using the "support" link in the plugin or use the form over at https://alexbrinkman.org/product-support/
License
There is only one license for this plugin: unlimited. Meaning unlimited sites and unlimited updates. Go crazy.
---
Changelog:
1.2.10 Added code to check for SSL to ensure icon css is loaded over SSL when SSL is present. 1.2.9 Added support for the DWD Slider module. 1.2.8 Added support for the DP Breadcrumbs module. 1.2.7 Added support for the Divi Supreme Icon List module. 1.2.6 Added support for Divi Supreme Pro Popup plugin. 1.2.5 Improved support for woocommerce modules within the Divi Theme Builder. Introduced a new 'Regnerate Icon CSS' button on the admin screen for the plugin. Be sure to regenerate your CSS when updating the plugin as Elegant Themes adds new elements and classes to the builder. Regenerating your icon CSS allows your icon CSS to be able to correctly target these new classes. 1.2.4 Added support for Divi 4.0 Theme Builder. 1.2.3 Improved compatibility with certain Divi Child Themes. 1.2.2 Updated to address Divi 4.0 changes. 1.2.1 Fixed bug where search functions sometimes didn't work in the new backend builder. 1.2.0 Updated and refactored code for performance enhancements and take advantage of Visual Builder custom events. 1.1.3 Corrected bug where some icon fonts had trouble being uploaded in Firefox. 1.1.2 Fixed bugs in new backend builder. 1.1.1 Optimized the loading of plugin assets for a smoother experience. 1.1.0 Fixed rendering bugs introduced in Divi 3.18.x with the new builders. 1.0.10 Refactored code. 1.0.9 Fixed an overlay icon bug that sometimes caused the Divi Shop module icon to not display properly. 1.0.8 Streamlined code and fixed bug where updating the plugin sometimes caused you to have to re-upload an icon set. 1.0.7 Fixed bug where leaving the search field empty didn't re-populate all icons. 1.0.6 Integrated EMP's auto-update feature so you can update the plugin right from your WP dashboard. 1.0.5 Improved compatibility for overlay plugins so icons display properly in popups and overlays. 1.0.4 Tweaked the plugin to be more flexible regarding how developers write their stylesheets. 1.0.3 Improved compatibility with Visual Builder. 1.0.2 Tweaked the plugin to be even more flexible when accepting different icon fonts. 1.0.1 Cleaned up the uninstall process and added in compatibility for php 5.6 (but suggested PHP version is 7+) 1.0.0 Initial release.
Checkout the documentation first and if you still need help open a support ticket.
View Docs
Please scroll down for the support form
This theme, layout or plugin is comprised of two parts.
1. The PHP code and integrated HTML are licensed under the General Public
License (GPL). You will find a copy of the GPL in the same directory as this
license file.
2. All other parts, including but not limited to the CSS code, images and design are
copyrighted by the vendor concerned and are NOT licensed under GPL.
This license allows the item to be used in projects for either personal or commercial use by you or on behalf of a client. The item cannot be offered for resale either on its own, in part, or as part of a larger project including that being part of a hosting offer. Distribution of source files is not permitted.
*Support is provided by vendors directly.
Please login to access the support form. you can do so here