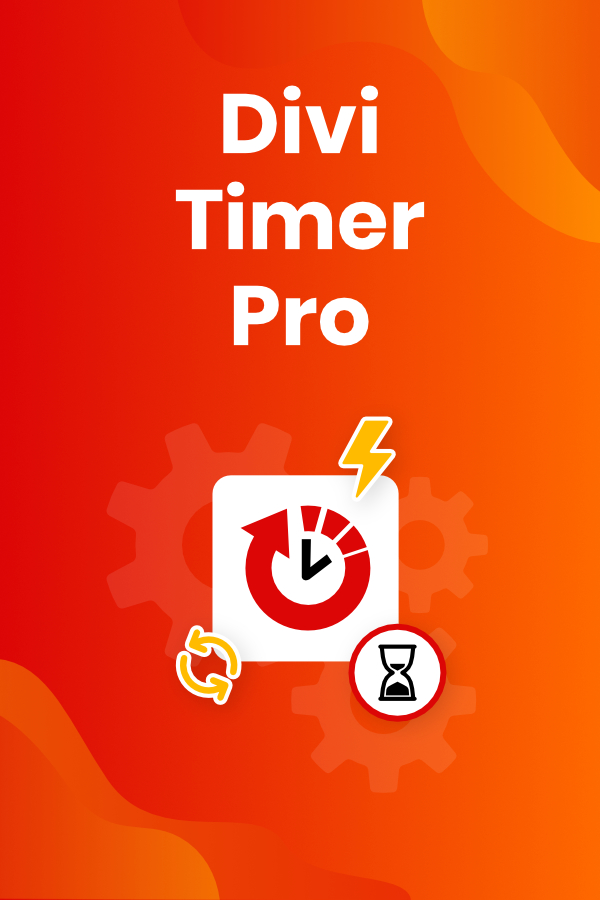 Overview
The default Divi Countdown Timer Module is extremely lacking. It is essentially pointless. It is missing the features that every marketer needs. There is no option to set it to restart once the timer stops, and there is no way to set the timer to start when a user lands on the page. The Divi Timer Pro plugin solves those pain points and has these features included!
Evergreen refers to a timer that starts counting down when a user lands on the page.
Auto-Restart refers to the timer starting again after it has finished.
Divi Timer Pro is a unique new Divi plugin with auto-restart and evergreen functionalities that can be used on your sales page, landing pages, popups, and promo bars. Trigger your customers' Fear Of Missing Out (FOMO) so hard with the evergreen timer that they can't resist buying the product or service they are interested in.
Take Advantage Of All The Benefits!
This plugin has everything you need to increase sales and drive conversions with scarcity and FOMO on your Divi website!
Shipping Deadline
Restart countdown timer every day at a certain cutoff time for next day shipping
Limited Time Offer
Count down to the deadline of a discount or sale that ends soon
Product Availability
Promote a limited-stock or first come first serve product for a limited time
Promote Impulse Purchases
Inspire shoppers to buy quickly before they change their mind or miss outte a limited-stock or first come first serve product for a limited time
Flash Sale
Show urgency and increase the fear of missing out on a limited time sale
Email Optin
Run a promotion to join your email list and receive download or offer
Enjoy These Incredible Features!
This unique plugin is the answer to the missing features your landing pages and product pages have been needing to be effective!
Post Expiry Actions
Redirect

Show Message

Hide Timer
Set Start Date & Time
Set Timer Duration
Two Types of Timers
Choose to use the recurring Auto-Restart option or the amazing Evergreen option
Visual Builder
Use this custom module in the Visual Builder just like the default Divi modules
Customize The Style
Use all the Divi module settings to customize and adjust the style
Choose An Action When The Countdown Ends
Our automations help convert your visitors into customers when the countdown timer reaches zero. Choose to redirect the user to another landing page, show them a custom message, or hide the timer.
Redirect
Set a custom URL redirect and transfer your user to another page
Show Message
Display a custom message to let your visitors know the offer has ended
Hide Timer
Remove the deadline by hiding the countdown timer completely
Content Features
Timer
Choose the type of timer you want.
Auto-Restart Option
Start Time
This is the date and time the Divi Timer Pro is counting down to. This is based on your timezone settings in WordPress General Settings.
Duration
This is the total duration of the countdown timer that will restart over and over.
Expiry Days

Expiry Hours

Expiry Minutes
Evergreen Option
Duration
Expiry Days

Expiry Hours

Expiry Minutes
Ending Action
Choose what you want to happen to the time when it ends.
Redirect To URL

Hide

Show Custom Message
---
Checkout the documentation first and if you still need help open a support ticket.
View Docs
Please scroll down for the support form
This theme, layout or plugin is comprised of two parts.
1. The PHP code and integrated HTML are licensed under the General Public
License (GPL). You will find a copy of the GPL in the same directory as this
license file.
2. All other parts, including but not limited to the CSS code, images and design are
copyrighted by the vendor concerned and are NOT licensed under GPL.
This license allows the item to be used in projects for either personal or commercial use by you or on behalf of a client. The item cannot be offered for resale either on its own, in part, or as part of a larger project including that being part of a hosting offer. Distribution of source files is not permitted.
*Support is provided by vendors directly.
Please login to access the support form. you can do so here