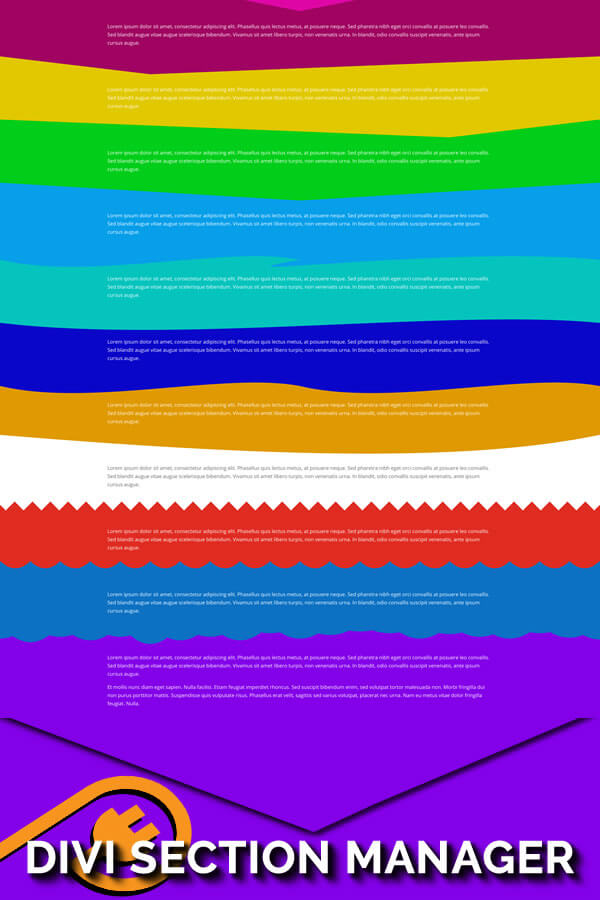 Changelog
V1.0 – 2/3/17
– initial release
V1.1 – 3/3/17
– Renamed plugin and description
V1.2 – 6/3/17
– Swapped Zigzag from CSS to SVG for better quality
– Added more section styles. Mountains & Wine Glass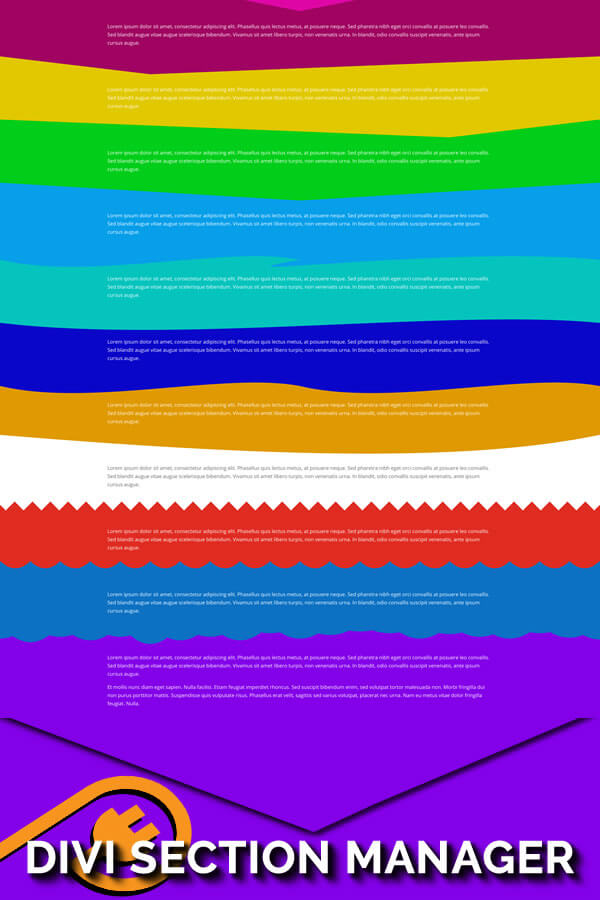 Licensing
You may install this product on any number of websites that you build for yourself or your clients or as the license so determines, i.e, if it is single use, then that applies. You may not install any of these products as part of a hosting offering. Any abuse of these license terms will result in the termination of your account and the licenses that are attached – no refund will be offered or awarded in such cases.  You will receive 6 months support – premium support charges may be incurred after this period. Updates are for the life of the product unless otherwise stated on the product page.
We understand that there can be issues whilst utilizing out of date browsers. Please ensure you use up to date browsers when using our vendors products. For DIVI Theme – Third Party Plugins may not perform as desired in the Divi Visual Builder. We are working with our vendors to rectify this situation as quickly as possible. With the release of Divi 3.1 developer documentation and SOME support of third party modules and plugins are now accessible through the visual builder. 
Please be aware that you will need an amount of experience in the master theme that you are using in order to take advantage of our themes and plugins.
Please make your decision to purchase based upon your skill level to see if our products fit your needs. Due to the nature of Digital Downloads, Refunds are not possible – please ensure that the product you are buying will do the job you want it too.
All support for products is handled by Vendors and contact details will be included in the download packages. If contact details are not found within the files, please do contact us and we will be happy to put you in touch with the vendor concerned. BEFORE YOU ASK US FOR DIRECT SUPPORT – READ THIS! 
Imagine being able to so easily convert those flat sections to something a little bit more original. Divi Section Manager allows you to use any of the built in SVG scalable section designs at the click of a single setting.. no CSS, no copying and pasting of code and seamless integration into new and existing content.
What's so great about this plugin is that you don't need to add any special new modules or sections, instead just edit an existing module. choose the style you want from the ever growing gallery of examples and press save. You can even edit the size of the divider to give it that more customised look.. bigger triangles, zigzags, clouds, waves, etc.. make the sections on your Divi site really stand out.
Styles Included
Included in the plugin are the following styles. If you have any suggestions or requests please get in touch. Very soon we plan to write some more quirky, icon based dividers for use with various markets (wine glasses for restaurant sites for instance…)
Clouds
Curved
Mountains
Slant – Left
Slant – Right
Triangle – Small Centered
Triangle – Large
Triangle – Left
Triangle – Right
Water
Waves – Short
Waves – Long
Waves – Shark
Wine Glass
Quick Start
Download the ZIP file bundled with this plugin.
Upload and install plugin as normal
Edit any section using the Divi Page Builder and scroll to the bottom
You will see a means to choose a divider and a size. Simply choose one and hit "update" on the page to save the changes as normal.
For any support issues, please visit this link http://docs.tortoise-it.co.uk/
General Note: You MAY need to purchase the Divi Theme or the Elementor page builder to use this product. Please see the product description notes above for more information.
You may also like these items
Support Request
You have questions about your purchased plugin, theme or layout? Then use this form to get your answers as soon as possible. If you have a license key, please enter it here. You can find it in your account under "view details and downloads". Otherwise, please use the purchase id from your transaction. You can find them in the first column in your purchase history (ID).