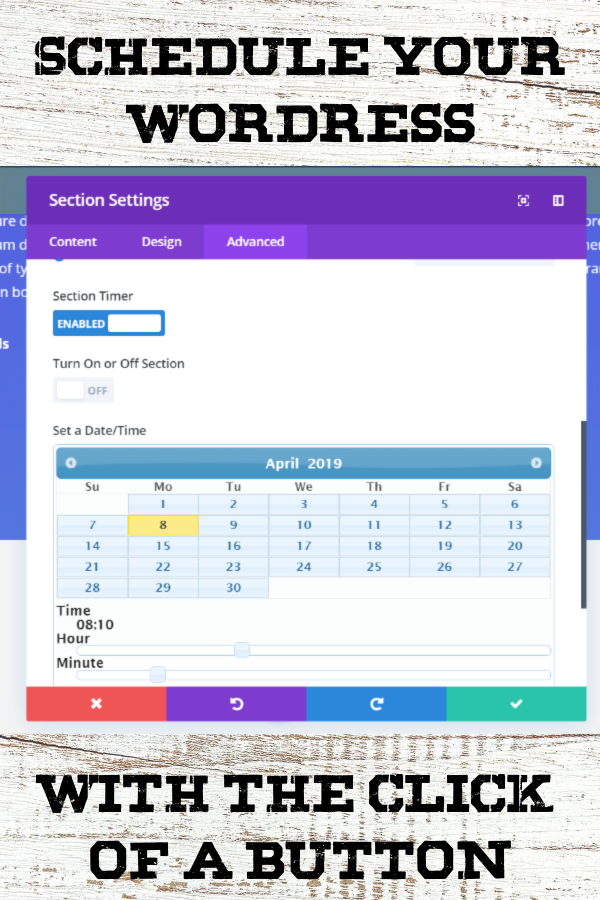 Add a feature to your Divi section where you can schedule the section to either display or no longer display on a given time and date. Set the time and date and let us do the work to have your content show when it should.
Features
Divi Section Content Scheduler allows you to schedule your WordPress Divi Section content to turn off or on at a given time or date. It will allow you to have the sale come on at the right time without the pain of taking your time. It will allow you to change all or just some parts of your website on the exact time and date you select.
You Can Now Schedule Your WordPress Content With the Click of a Button
AUTOMATE A LIMITED TIME SALE
**Only Works on Divi & Extra Theme**
*This has been tested and verified to work on Chrome, Sarafi, FireFox, Edge, Opera & Internet Explorer*
How to install and use
1.Purchase the Plugin
2.Download and install it as any other plugin (plugins –> add new –> upload the zip file)
3. Activate the plugin
4. Navigate to any section in the Divi visual builder (Regular, Specialty or Full width)
5. Navigate to the advanced tab and go under the viability section
6. Enable the Section Timer
7. Decide whether you want to turn the section off or on and toggle the switch accordingly
8. Set the date and time you want the section to show or no longer show
SCHEDULE CONTENT ON YOUR WEBSITE WORRY FREE!
---
Checkout the documentation first and if you still need help open a support ticket.
View Docs
Please scroll down for the support form
This theme, layout or plugin is comprised of two parts.
1. The PHP code and integrated HTML are licensed under the General Public
License (GPL). You will find a copy of the GPL in the same directory as this
license file.
2. All other parts, including but not limited to the CSS code, images and design are
copyrighted by the vendor concerned and are NOT licensed under GPL.
This license allows the item to be used in projects for either personal or commercial use by you or on behalf of a client. The item cannot be offered for resale either on its own, in part, or as part of a larger project including that being part of a hosting offer. Distribution of source files is not permitted.
*Support is provided by vendors directly.
Please login to access the support form. you can do so here