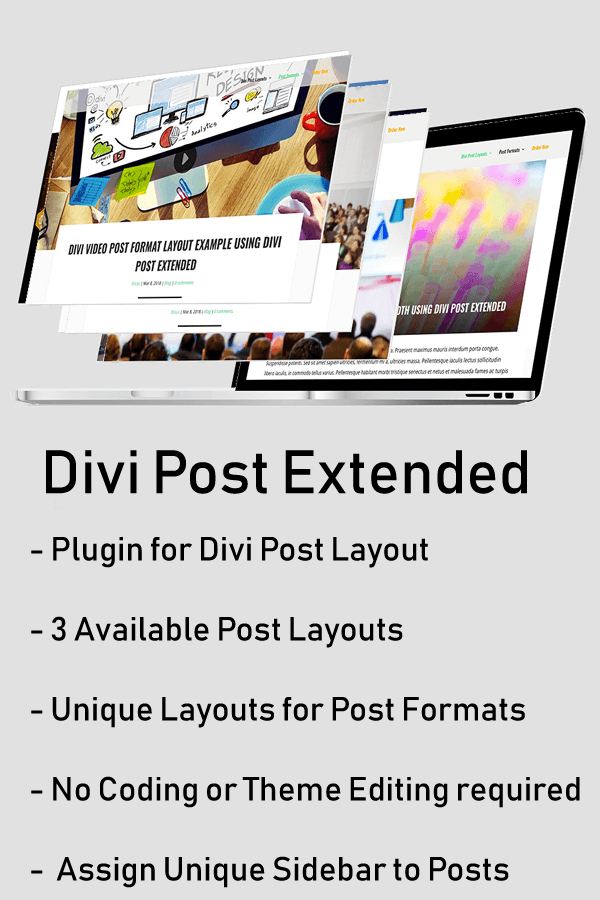 Ready to use Divi Post Layout Plugin. Install, select a layout, and transform the post layout completely without touching theme file or CSS. There are 3 available layouts that can be applied in a few clicks.
== Installation ==
Unzip divi-post-extended.zip
Upload divi-post-extended folder to the /wp-content/plugins/.
Activate the plugin.
Or
Navigate to Add plugin page and then go to Upload
Upload divi-post-extended.zip from WordPress dashboard.
Once installed, activate the Plugin
Global Configuration:
To set the global configuration, go to Settings and then Divi Post Extended
Select the type of layout (Default, Stellar, Classic or Prime)
Choose the sidebar
Individual Configuration for overwriting default settings:
Edit a post
Look for Divi Post Extended section on top right
Select the Layout, Sidebar.
If you want to make the post full width, make it from Divi Post settings and save the post.
You must log in and be a buyer of this download to submit a review.
---
Changelog:
= 1.0.4 =
* Release Date - 19th April, 2019
- New: Added control for featured image size.
- New: Added post read time meta.
= 1.0.3 =
Release Date - 1st March, 2019
* Fixed: Template not working in some cases.
= 1.0.2 =
 Release Date - 11th Feb, 2019
* Fixed: Sidebar still coming on the posts when 'No Sidebar' selected as page layout.
* Fixed: Top element padding issue in case of transparent navigation.
* Improvement: Improved template structure.
= 1.0.1 =
 Release Date - 20th March, 2018
* Added support for default Divi post layout.
= 1.0.0 =
 Release Date - 13th March, 2018
* Initial release
Single site license
A single site license is valid for use on 1 website.
Extended license
The extended license is valid for use on more than 1 website (including sites developed for clients).
Update
Free Lifetime update.
Support
We offer support for 1 year from the date of purchase. After that, users can renew support at 50% of the original price.
*Support is provided by vendors directly.
You have questions about your purchased plugin, theme or layout? Then use this form to get your answers as soon as possible. If you have a license key, please enter it here. You can find it in your account under "view details and downloads". Otherwise, please use the invoice id from your invoice.