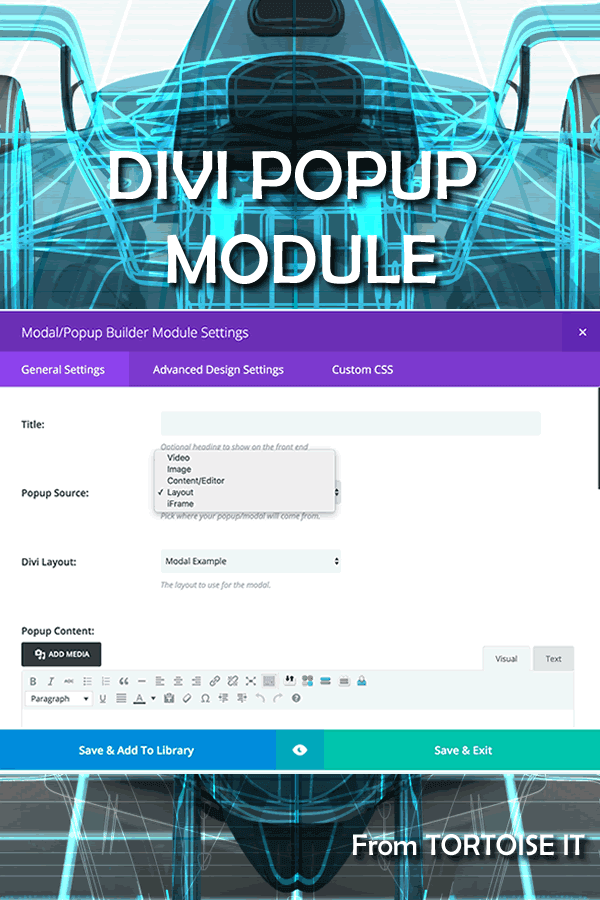 Changelog
*
* < V1.4
* – Initial Release
*
* V1.5
* – Fixed responsive text size/line height issues
* – Added more configuration options in advanced design settings across all modules
*
* V1.6
* – Better support for video popup types
* – More trigger styles/CSS
* – Support added for px and % sizing
*
* V1.7 (08/02/18)
* – Moved init hook to builder ready to avoid conflicts
* – Moved editable fields to new builder groups for a better experience
* – Added new triggers – exit intent, scroll % and on blur of input element
* – Added new responsive styling options (tablet and mobile width/height settings)
* – Renamed module from Modal / Popup Builder to just Popup Builder
* – Added Licensing/Auto Update
* – Added 'Theme Style' skin which picks up accent color from the theme and uses a more modern style
*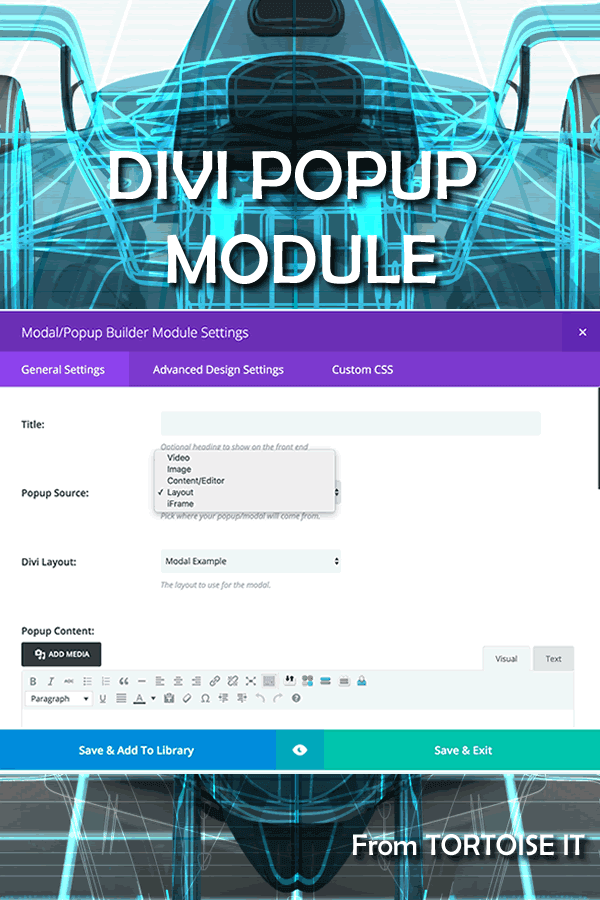 Licensing
You may install this product on any number of websites that you build for yourself or your clients or as the license so determines, i.e, if it is single use, then that applies. You may not install any of these products as part of a hosting offering. Any abuse of these license terms will result in the termination of your account and the licenses that are attached – no refund will be offered or awarded in such cases.  You will receive 6 months support – premium support charges may be incurred after this period. Updates are for the life of the product.
We understand that there can be issues whilst utilizing out of date browsers. Please ensure you use up to date browsers when using our vendors products. For DIVI Theme – Third Party Plugins may not perform as desired in the Divi Visual Builder. This is an issue that we cannot fix due to the restrictions put upon us by Elegant Themes lack of Divi Developer Documentation.
Please be aware that you will need an amount of experience in Divi Theme/  or ELEMENTOR/WordPress to take advantage of our themes and plugins.
Please make your decision to purchase based upon your skill level to see if our products fit your needs. Due to the nature of Digital Downloads, Refunds are not possible – please ensure that the product you are buying will do the job you want it too.
All support for products is handled by Vendors and contact details will be included in the download packages. If contact details are not found within the files, please do contact us and we will be happy to put you in touch with the vendor concerned. BEFORE YOU ASK US FOR DIRECT SUPPORT – READ THIS! 
Introducing the Divi Popup Modal Module for Divi. The ability to make a modal/popup using Divi has been missing for a LONG time. This plugin does just that. It's based on the wildly popular Colorbox jQuery library and features a bespoke Divi Builder module which will allow you to define both the content of the popup and the trigger element. For example a button or image (configurable) and a video/image/layout based popup. It's very easy to use, watch the video for further/more detailed instructions (plugin has been updated a LOT since the video was made). You have control over the styles of the trigger and the popup itself. The popup (often called a lightbox) has optional controls for responsiveness as well (width and height settings at tablet and mobile sizes for extra flexibility..
Trigger Types
A trigger is what causes the popup to show. These can be as simple as a text link, image or button but may also be more advanced such as showing on page load or showing if an element with a specific class or ID is clicked. More triggers are being added all the time so by all means suggest what you'd like to see and it can be integrated into the next version 🙂
Each trigger is fully configurable and can be styled very easily.
Image
Button
CSS Class/ID
On page load (with optional delay)
Exit Intent – when the user tries to close the browser
Scroll Delay – when the user gets to a certain % of the way down the page
On Blur – much like class/ID except this fires when your user clicks out of a field
Popup Styles
There are a selection of predefined popup styles which can be configured on a per popup basis. This causes the popup to use a different set of CSS rules therefore giving your popups a set skin/brand very easily.
The newest is called 'Theme Style' and it takes the 'Accent Color' from your Divi Customizer and uses that as the background color along with a clean and modern lightbox window. See screenshot below for an example.
Popup/Modal Content
Within the popup/modal window you can show a variety of types of content. Out of the box the system supports some simple formats such as video or image but also it can do a lot more such as using a Divi Builder layout or an iFrame.
The current list of supported content types is as follows. As with triggers, if you'd like to see this support a different type of content then please let me know.
Video
Image
Layout
Content
iFrame
See the screenshots for how these look on the example site
Usage instructions
Visit plugins > add new
Upload the plugin and activate
Visit any page with a page builder
Add the module called 'Popup Builder'
Choose your trigger and modal content from the options within the module
Configure using the settings, CSS and/or the Advanced Design Settings tab within the module.
Note
Layouts are subject to responsive rules and may look slightly different in terms of widths and spacing on occasion. Width and Height settings are provided but I suggest you test the popup and tune the output using the advanced design settings before releasing pages to the public.
This plugin is based on the wildly popular Colorbox jQuery plugin.
For any support issues, please visit this link http://docs.tortoise-it.co.uk/
General Note: You MAY need to purchase the Divi Theme or the Elementor page builder to use this product. Please see the product description notes above for more information.
You may also like these items