Divi Module Development With react.js
$125.00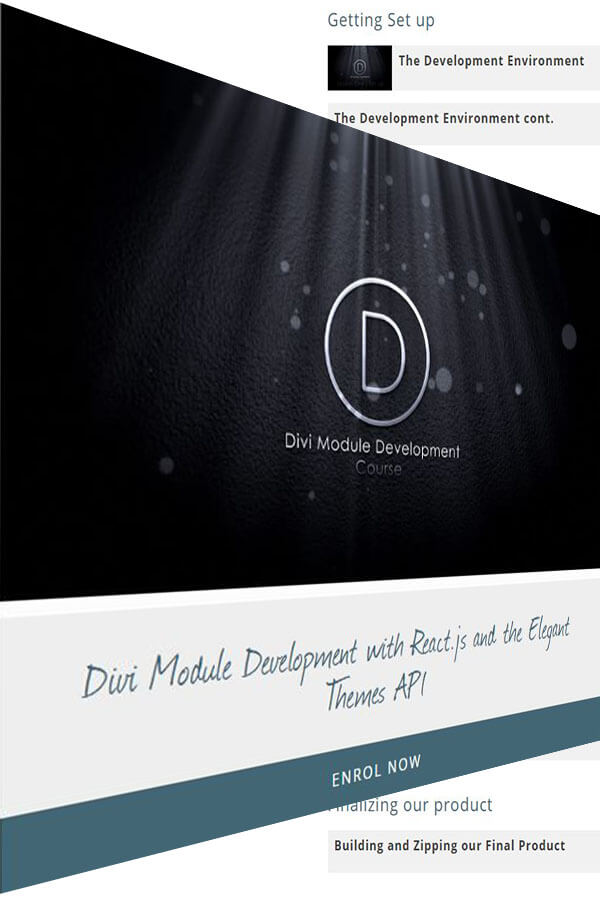 Or, How to build a Divi Module that is totally Divi Visual Builder Compatible.
In this Divi module development course you will learn the basics of creating a Divi module all the way to creating simple or complex modules for yourself. We will learn how to set up our modules php configurations going over the code line by line. We will also be doing a short dive into Reactjs and learn the basics of React as well as how to implement our modules in the Divi's visual builder using React and the elegant themes API. This course is for you if you wish to have a deeper understanding of how to create Divi modules whether you want to sell them online or create specific modules for your own and your clients' benefit.
Special introductory pricing of just $125.00 – $62.50 until 07/16/2018
Here's what you get:
The Development Environment
Setting up our PHP
PHP side
CSS Grid
Field Visibility
Child Elements and Render
Child Grid Elements
The React Side
React Primer
Building Out the React Side
Adding Content on the React and PHP Sides
Adding Buttons and using a jQuery plugin
Finalizing our product
Building and Zipping our Final Product
---
The course is offered as lifetime membership plus membership to a Secret/Private Facebook Group.
*Support is provided by vendors directly.
Please login to access the support form. you can do so here