Divi Menu Module (Standard Width)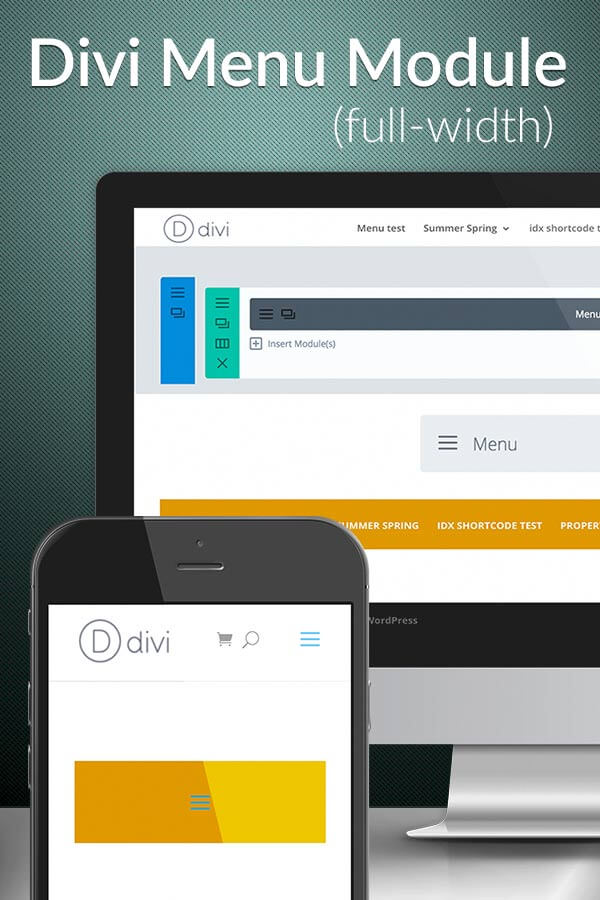 Changelog
*
* V1.0
* – Initial Version
*
* V1.1
* – Made surrounding row optional
*
* V1.2
* – Added better support for the Divi Mega Menu
*
* V1.3
* – Fixed responsive text size/line height issues
*
* V1.4
* – Used correct action on enqueueing stylesheets
*
* V1.5
* – Added a basic vertical mode
*
* V1.6
* – Moved from init to builder ready
* – Added CSS to fix the mobile menu and stop it from sitting behind other sections
*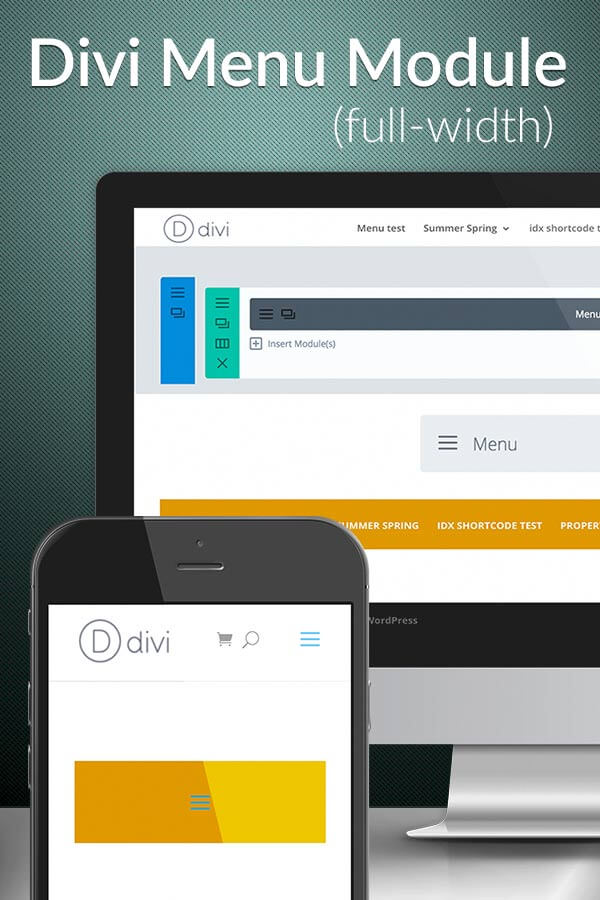 Licensing
You may install this product on any number of websites that you build for yourself or your clients or as the license so determines, i.e, if it is single use, then that applies. You may not install any of these products as part of a hosting offering. Any abuse of these license terms will result in the termination of your account and the licenses that are attached – no refund will be offered or awarded in such cases.  You will receive 6 months support – premium support charges may be incurred after this period. Updates are for the life of the product unless otherwise stated on the product page.
We understand that there can be issues whilst utilizing out of date browsers. Please ensure you use up to date browsers when using our vendors products. For DIVI Theme – Third Party Plugins may not perform as desired in the Divi Visual Builder. We are working with our vendors to rectify this situation as quickly as possible. With the release of Divi 3.1 developer documentation and SOME support of third party modules and plugins are now accessible through the visual builder. 
Please be aware that you will need an amount of experience in the master theme that you are using in order to take advantage of our themes and plugins.
Please make your decision to purchase based upon your skill level to see if our products fit your needs. Due to the nature of Digital Downloads, Refunds are not possible – please ensure that the product you are buying will do the job you want it too.
All support for products is handled by Vendors and contact details will be included in the download packages. If contact details are not found within the files, please do contact us and we will be happy to put you in touch with the vendor concerned. BEFORE YOU ASK US FOR DIRECT SUPPORT – READ THIS! 
A common request for Divi users is a menu module. Elegant Themes provide an excellent Full Width menu module but sadly it doesn't work in 'normal' width sections. This is the answer to that need. A nice little module that has the same options as the ET full width version including burger menu in responsive and advanced design settings for styling. See screenshots for more information.
Instructions
Simply add the plugin, activate it and then visit a Divi Builder powered page to see a new module cunningly named 'Menu'. You can use the Advanced Design Settings tab within the module in order to style it to your needs.
For any support issues, please visit this link http://docs.tortoise-it.co.uk/
General Note: You MAY need to purchase the Divi Theme or the Elementor page builder to use this product. Please see the product description notes above for more information.
You may also like these items
Support Request
You have questions about your purchased plugin, theme or layout? Then use this form to get your answers as soon as possible. If you have a license key, please enter it here. You can find it in your account under "view details and downloads". Otherwise, please use the purchase id from your transaction. You can find them in the first column in your purchase history (ID).