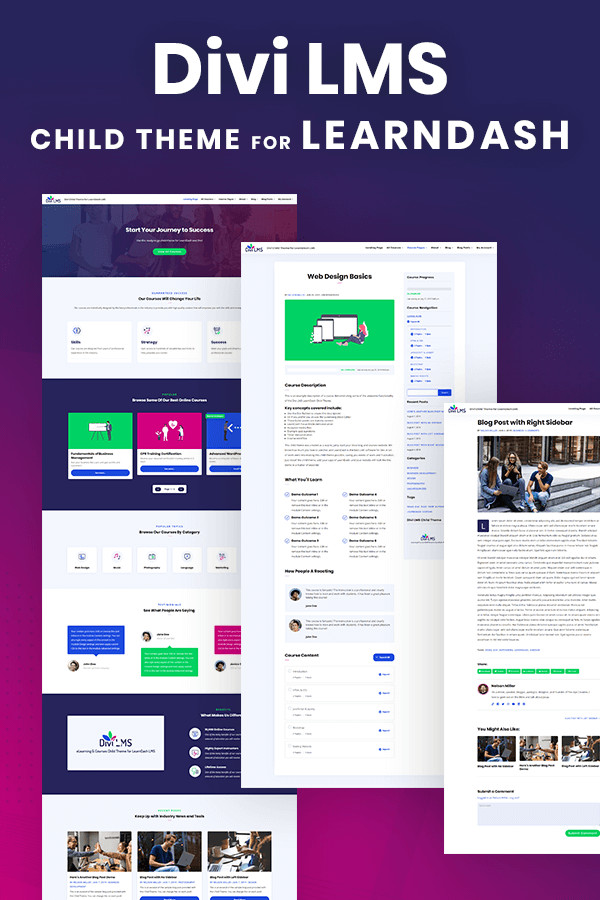 Overview
Are you wanting to start an online course website, but hate the thought of 40+ hours just setting up the site? Are you a fan of Divi, the #1 page builder theme for WordPress, and want to use it for your courses and elearning website? Do you need a boost in motivation to get started? Are you ready to start making money selling your courses?
The Divi Child Theme for LearnDash LMS gives you the jumpstart you need to build an elearning and courses website. The child theme comes with custom styling and layouts created specifically for using Divi and LearnDash together. For example, the course list is beautiful and highly customized as opposed to LearnDash out-of-the box. We've spent tons of hours getting this ready for you, and we are excited to finally be offering it to you for such an affordable price.
The child theme allows you to import the content and layouts from the demo directly into your WordPress site with one click! You can use the Divi Builder to edit anything, or use our preconfigured styles and layouts like the course layouts, landing pages, blog layouts, lesson pages, account pages, and so much more to get you started on your way to a successful LMS website!
Start Earning Money
The online learning industry is exploding, and you can take advantage of it! Start creating courses to share your experience and knowledge in exchange for recurring revenue. We are proud that our ready-to-go child theme for LearnDash and Divi is helping so many people get started on their path to success!
Purchase Divi LMS today!
When time is short and you need to focus on writing and selling your course, this child theme for Divi and LearnDash LMS is your hero! You can buy with confidence knowing you are using the top WordPress page builder in the world along with the most popular LMS platform. Put those together and you have the perfect match! And of course we will be here for you after the sale to offer any help and support that is needed.
Features
Included Content Layouts
Landing Page/Home Page

5 Course Grid Pages Based on Course Category

6 Course Pages (Built With Divi and Gutenberg)

Lesson Pages (Built With Divi and Gutenberg)

Topic Pages (Built With Divi and Gutenberg)

Quiz Pages (Built With Divi and Gutenberg)

Profile Page

About Page

Instructors Page

FAQ Page

5 Blog Pages With Various Grids, Fullwidth, and Sidebar Layouts

3 Blog Posts With Various Grids, Fullwidth, and Sidebar Layouts

Login/Register Page

Privacy Policy

Terms & Conditions
Divi 4.0 Theme Builder
The Divi LMS for LearnDash child theme comes with pre-made and pre-assigned Theme Builder templates for the site header, footer, LearnDash courses, blog posts, and blog categories/tags.
Custom Icons
The Divi LMS for LearnDash child theme includes 12 professionally designed custom icons which you can use on your site.
Handy Style Guide
The Divi LMS for LearnDash child theme includes a downloadable PDF style guide which shows the logo, colors, buttons, and typography of this child theme which can be used as a  reference as you design your site.
Unique Styling
Course Grid Styling

Equal Height Course Grid

Single Field Optin Module

Testimonials

Submenu w/ Point On Top

Blog Feed Pagination

Course Grid Pagination

Sidebars and Widgets

And much more!
Designed for Mobile
Responsive Text Sizes

Responsive Spacing

Responsive Image/Icon Sizes
Consistent Design
Two Standard Fonts

Cohesive Font Sizes

Consistent Spacing Throughout
Fully Commented Code
All CSS code included is easy to understand and reference with comments on every single line!
You must log in and be a buyer of this download to submit a review.
---
Checkout the documentation first and if you still need help open a support ticket.
View Docs
Documentation & Support
Complete installation instructions and support at https://www.peeayecreative.com/docs-support/divi-lms-learndash/
Friendly support for our products is always provided after your purchase. Feature updates may be released but are not guaranteed. We are in no way affiliated with LearnDash, and our product is totally independent. Pee-Aye Creative is not responsible for any conflicts due to updates with WordPress, Divi, LearnDash, or third-party plugins.
Requirements
This child theme requires the Divi parent theme to be installed. You need an active subscription to both Elegant Themes and LearnDash for this child theme to work properly, neither of which are included in the purchase price of this product. Please contact the theme author Pee-Aye Creative for more information.
This child theme is intended for new WordPress sites. However, the demo import process does allow you to select which items you would like to import if your site is already live. Please contact the theme author Pee-Aye Creative if you have any questions.
License information
The images in the demo are included and available for free from stock photo sites such as pexel.com.
-The Single Site purchase allows you to use this child theme for both personal and commercial use on one development and one live site.
-The Unlimited Sites purchase allows you to use this child theme for both personal and commercial use on unlimited development and unlimited live sites.
*Support is provided by vendors directly.
Please login to access the support form. you can do so here