Divi/Extra Layout Injector
Before asking for support on this or any other item, please read this
Note: Third Party Modules and plugins

may

not work in the Visual Builder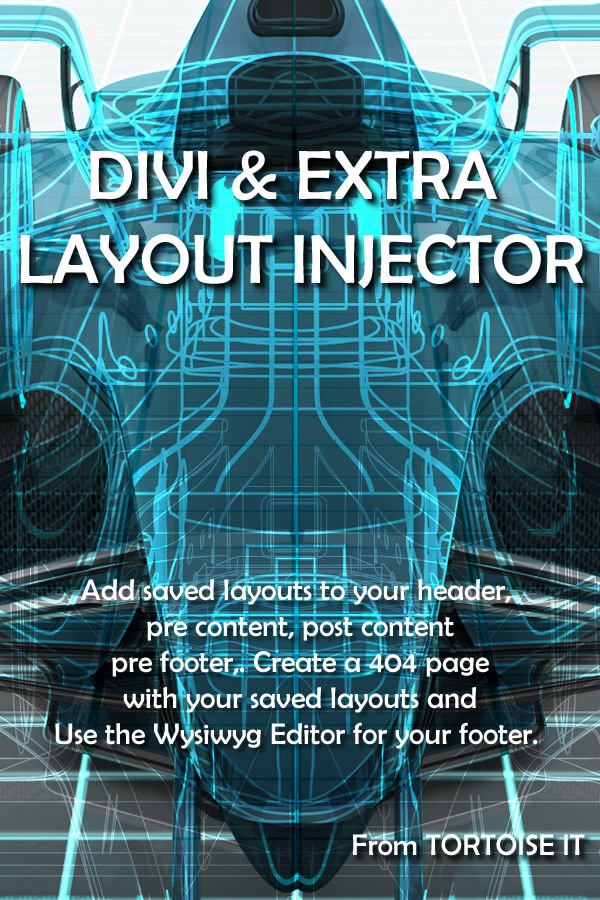 Changelog
*
* < V1.8
* – Initial Versions
*
* V1.8
* – Fixed conflict with the HTML5 'footer' tag
*
* V1.9
* – Fixed bug introduced in V1.8
*
* V2.0
* – Added support for Polylang. Choose different layouts to show per language!
*
* V2.1 – 30/1/17
* – Fixed bug whereby the footer id has additional quotes
* – Added licensing and auto update functionality
*
* V2.2 – 10/2/17
* – Removed divi layout injector overrides box for post type et_pb_layout, acf-field-group for neatness
* – Slight admin page change to decrease need to scroll
*
* V2.3 – 22/2/17
* – Added Widget to use a Divi Builder layout
*
* V2.4 – 25/4/17
* – Changed post content layout to work even when page builder is not used.
*
* V2.5 – 15/6/17
* – Added NEW "post menu" injection point which sits below the menu and remains sticky with the scroll. Ideal for opt ins and additional menus/buttons etc..
* – Fixed pre-header repeating where a page had multiple
html tags
* – Added 'hide on scroll' option to post-menu injection point
*
* V2.6 – 3/8/17
* – Fixed php notice generated by new injection point.
*
* V2.7 – 27/9/17
* – Housekeeping: Fixed PHP Notices on the settings page
*
* V2.8 – 23/10/17
* – Added better support for Extra. Pre Header and Pre Footer now both show. Added CSS to help with the layout on blog based homepages
*
* V2.9 – 30/10/17
* – Some more Extra CSS
*
* V3.0 – 03/11/17
* – Fixed auto update system
*
* V3.0.1 – 04/11/17
* – Fixed minor bug after the last update
*
* V3.1 – 09/11/17
* – Pre-content now works on blank templates
*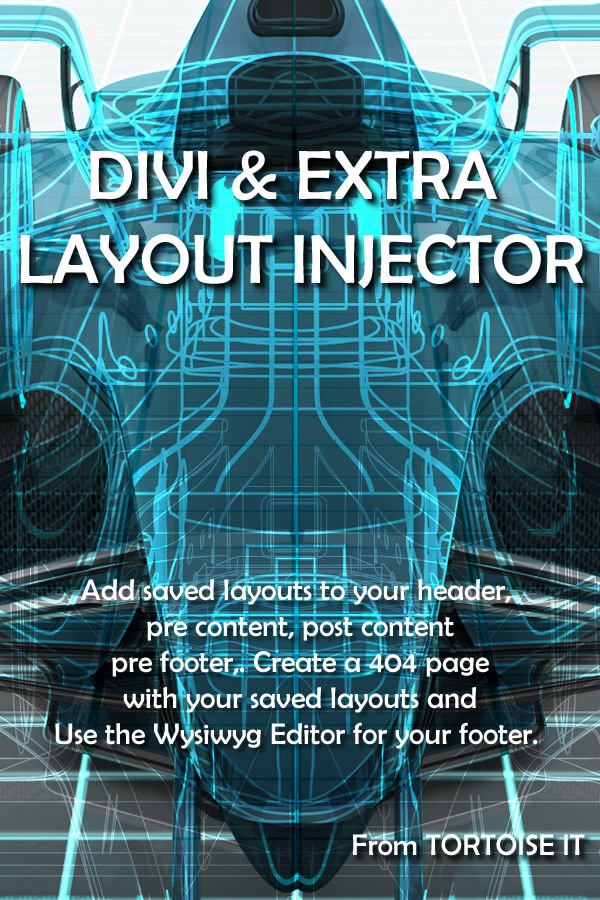 Licensing
You may install this product on any number of websites that you build for yourself or your clients or as the license so determines, i.e, if it is single use, then that applies. You may not install any of these products as part of a hosting offering. Any abuse of these license terms will result in the termination of your account and the licenses that are attached – no refund will be offered or awarded in such cases.  You will receive 6 months support – premium support charges may be incurred after this period. Updates are for the life of the product.
We understand that there can be issues whilst utilizing out of date browsers. Please ensure you use up to date browsers when using our vendors products. For DIVI Theme – Third Party Plugins may not perform as desired in the Divi Visual Builder. This is an issue that we cannot fix due to the restrictions put upon us by Elegant Themes lack of Divi Developer Documentation.
Please be aware that you will need an amount of experience in the master theme that you are using in order to take advantage of our themes and plugins.
Please make your decision to purchase based upon your skill level to see if our products fit your needs. Due to the nature of Digital Downloads, Refunds are not possible – please ensure that the product you are buying will do the job you want it too.
All support for products is handled by Vendors and contact details will be included in the download packages. If contact details are not found within the files, please do contact us and we will be happy to put you in touch with the vendor concerned. BEFORE YOU ASK US FOR DIRECT SUPPORT – READ THIS! 
Fully tested with Divi and Extra (including V3.01+) so you can inject your saved layouts throughout your website. Take a look at this great review on Elegant Themes and see what you can do with this very powerful plugin
This game changing plugin allows you to place saved layouts onto ANY page on your site centrally in a variety of positions on the page. We call them injection points but they relate to 'pre header', 'post-menu', 'pre content', 'post content' and 'pre footer' areas. Creating the layout ONCE only and then using a simple and central admin system to add the new layouts to the site in different "injection points".
There's also a default 404 Layout Injector which allows you to customise your 404 page optionally based on a page (redirect) or just by overriding the 404 layout directly as well as a great little WYSIWYG footer editor too.
In addition to all of that you'll be pleased to hear that you can now use the Divi builder to power Widgets. Simply create a layout and then add the widget to any sidebar and choose your layout to use. Bringing the power of the Divi Builder to sidebars as well!
Each injection point (described above) can be overridden on a per post/page/CPT basis.. eg if you have a map in your pre-footer layout but want to feature a different layout on the contact page with the map elsewhere then this plugin allows you to easily do that! You can even override layouts based on the language of the page!! (Using the Polylang plugin)
All in one plugin – Incredible!, no coding, no importing of XML files, no conflicts, tested with DIVI 3.01+ And Extra with all the usual plugins and it works like a charm. Watch the video to see how it works. (old video, new functionality added and a better settings page added).
For any support issues, please visit this link http://docs.tortoise-it.co.uk/
General Note: You MAY need to purchase the Divi Theme or the Elementor page builder to use this product. Please see the product description notes above for more information.