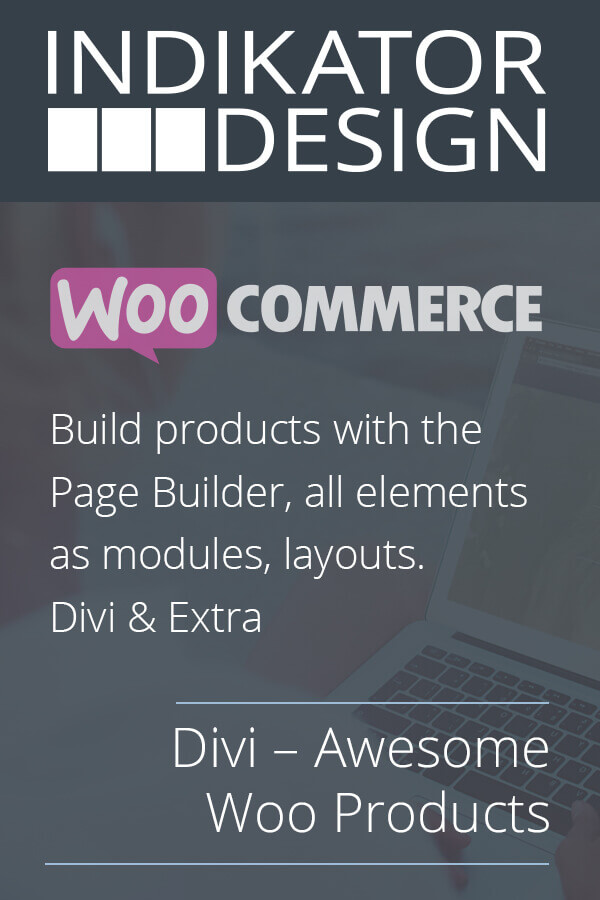 Since Elegant Themes now provides its own WooCommerce modules, the further development of DAWP no longer makes sense. Therefore we decided to stop selling DAWP.
Of course, we offer further support for a transitional period. However, it is recommended to switch all products to the modules that Elegant Themes now offers.
To avoid problems, products in Divi itself should be turned off while DAWP is still in use. Go to the Divi Options on the "Builder" tab. Then you can disable products under "Post Type Integration".
If you find that a product has duplicate content, make sure that "Product Content" is set to "Default" and save the product again.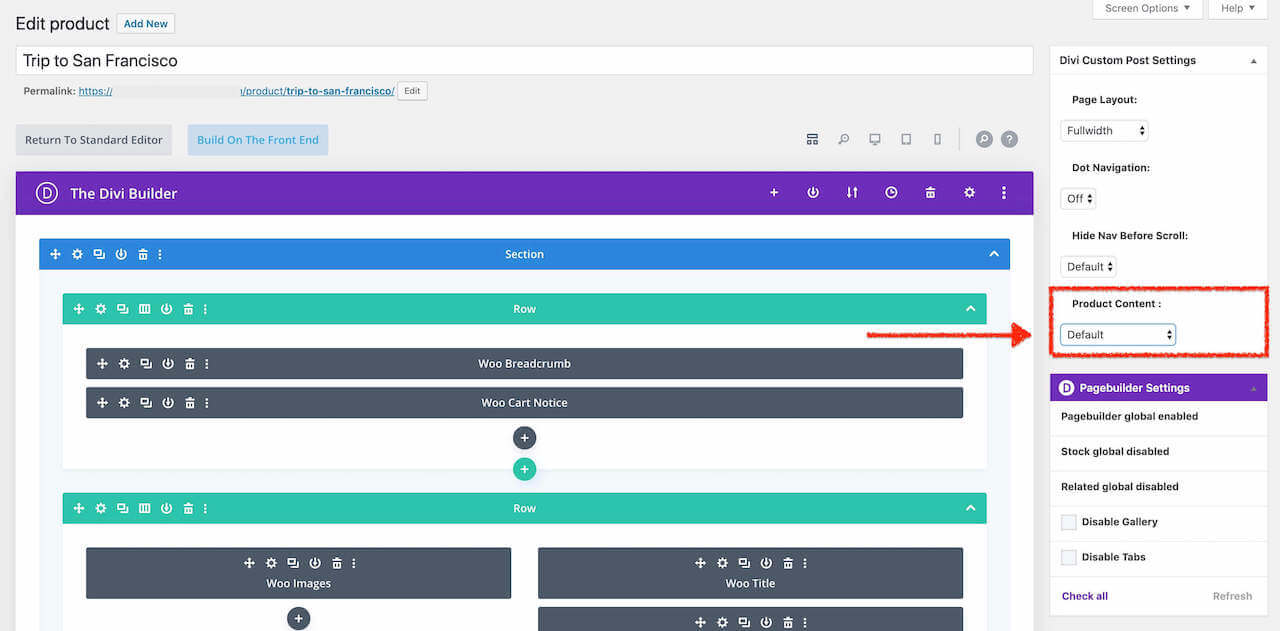 After Divi 4.0 is released, you should follow the following procedure to convert your products: design a new product layout in a test installation and import it into your production sites. Then use the new theme builder to assign it to all products first. Then decide on individual product pages if you want to make individual adjustments.
If you have purchased the module in the last few days, please contact Elegant Marketplace support. Since the module is now unfortunately discontinued, a refund is a matter of course.
We thank everyone who supported us and wish you a great time. We ourselves think it's fantastic that Elegant Themes now offers these functions themselves, which is why they are better implemented in the system and will remain available for the future.
If you also want to customize your WooCommerce Shop, Categories and Tag Pages with the Pagebuilder, check out "Divi – Filterable Blog Module".
Please note that at least PHP 5.6+ ( better is PHP 7.0++ ) must be installed on your server. You also need the Divi- or Extra-Theme and WooCommerce. Photo Credits
If you use product extensions, please test only with a test product if "Divi – Awesome Woo Products" works with your extension. If you find any errors, please contact me via the support form. I try to ensure compatibility can be established. You can find a list of the extensions that should work properly when you click the following link Compatible plugins.

Author: Bruno Bouyajdad » Indikator Design
You don't know exactly how to start or you run into issues? Here is a link to the documentation. Doesn't help? Then just contact me via the Support Form.
For pre-purchase questions use the comments below or just ask me on Facebook.
Changelog
— 1.0.12 —
Fixes an issue where the Divi Builder assigns classes wrong before the body tag
— 1.0.11 —
Fixes some issues with new divi selectors
— 1.0.10 —
Changed updater to the EMP EDD updater class
Fixed an issue with WooCommerce order/purchase emails
Fixed a CSS issue with the add to cart module based on new et selectors
Fixed an issue with fullwidth special sections
Fixed an issue with the preview mode
— 1.0.9.9.3 —
IMPORTANT NOTE: EXECUTE THIS UPDATE ONLY IF YOU HAVE Divi 3.0.91 installed! This update integrates the new filter methods for images etc. but Divi 3.0.91 is absolutely necessary!
Fixes an issue with the update button on the cart page with WooCommerce 3.3.0
— 1.0.9.9.2 —
Fixes a problem that causes variations to display incorrectly when using modules for Related Products, Upsell Products or the Standard Divi Shop module in the product layout because they call additional hooks that do not normally appear on product pages
— 1.0.9.9.1 —
Fixed a bug that caused a fatal error in some development environments by a wrong class call
— 1.0.9.9 —
Fixed a bug that caused a fatal error in some development environments by a wrong class call
— 1.0.9.8 —
Added the new filter methods to the different elements
Fixed an issue with positioning affiliate link buttons
The maximum width settings for – Gallery, Related Products, Upsell Products, Tabs – have been changed to the new default settings of Divi. If you have used them before, you will need to check your products to reassign the new settings
— 1.0.9.7 —
The rating position was changed to CSS Flexbox
Change of Sale Flash Border Radius control with the native module function
Implementation of the Singleton Pattern function DAWP()
An error has been fixed when using the standard shop module instead of the related products module
An error has been fixed for the center positioning of the breadcrumbs
Removed the position center option for the "add to cart" button (it's always centered with CSS Flexbox)
— 1.0.9.6 —
Fixes a bug in WooCommerce that prevents emails from being sent when a note is added
— 1.0.9.5 —
Fixes a bug in WooCommerce that prevents emails from being sent when the order status changes
— 1.0.9.4 —
Shortcodes are now executable in the Description tab
Change of CSS properties for the Add to cart button to FlexBox Model
Tab-Height-Sync can be disabled by setting the filter "dawp_sync-tabs" to false
Ability to disable the DAWP quantity buttons in the add-to-cart module and for the shopping cart by setting the filter "dawp_hide_qtb_cart" to true
Added support for the "Iconic-WooThumbs" plugin
The scrolling problem has been fixed by clicking on the rating stars
An error with the display width for the extra theme has been fixed.
The update script has been updated
The autoloader has been updated
— 1.0.9.3 —
Performance modifications for the cache rebuilder. Now only DAWP module templates will be renewed.
— 1.0.9.2 —
Improvements for content output
— 1.0.9.1 —
Fixed a typo in "dawp-admin-min.js"
— 1.0.9 —
Removed empty p-tags surrounded the output content
— 1.0.8 —
Layouts build in the layout section are now available in products
Stability improvements for the automatic refresher in the layout area
Fixed an error that caused an infinite loop for variable products with WooCommerce 3.0.2++
— 1.0.7 —
Added support for the WooSwipe Gallery Plugin
Removed the global $dawpInstanceObj
Added trait dawpTraitGlobal and static DAWP()
A problem has been fixed with the auto cache refresh functionality
A problem has been fixed with empty modules in the layout area
Different performance improvements
Small Fixes for WooCommerce 3.0
Rewritten code basis
— 1.0.6 —
Fixed an issue with the add to cart button on safari
— 1.0.5 —
Improvements for rebuilding the cache in the layout area
— 1.0.4 —
Added the possibility to force fullwidth layouts on product pages
Small improvements
— 1.0.3 —
3 shortcodes were added to display only the content of the standard tabs (description, additional info, review)
— 1.0.2 —
Improvements for automatic error detection in localStorage
Fixed a bug that caused a fatal error with preview
Now all text strings are escaped
Different code improvements
— 1.0.1 —
The preview can now also be used within the layout editor
Improvements for rebuilding the local cache
Fixed a bug that caused a fatal error in the backend on product and layout pages when SEO plugins were used
Fixed a bug that caused updates to fail
— 1.0.0 —
Initial Release
---
Checkout the documentation first and if you still need help open a support ticket.
View Docs
You can install this product on unlimited websites that you build for yourself or your clients
You may not install this product as part of a hosting offering
The support does not include customization
You will receive 6 months support
We understand that there can be issues whilst utilizing out of date browsers. Please ensure you use up to date browsers when using this product.
Please be aware that you will need an amount of experience in Divi Theme and WordPress to take advantage of this plugin.
Please make your decision to purchase based on your skill level to see if this product fit your needs. Due to the nature of Digital Downloads, refunds are not possible – please ensure that the product you are buying will do the job you want it too.
For support requests please have also a look at the EMP FAQ or use the support form here on this page.
*Support is provided by vendors directly.
Please login to access the support form. you can do so here