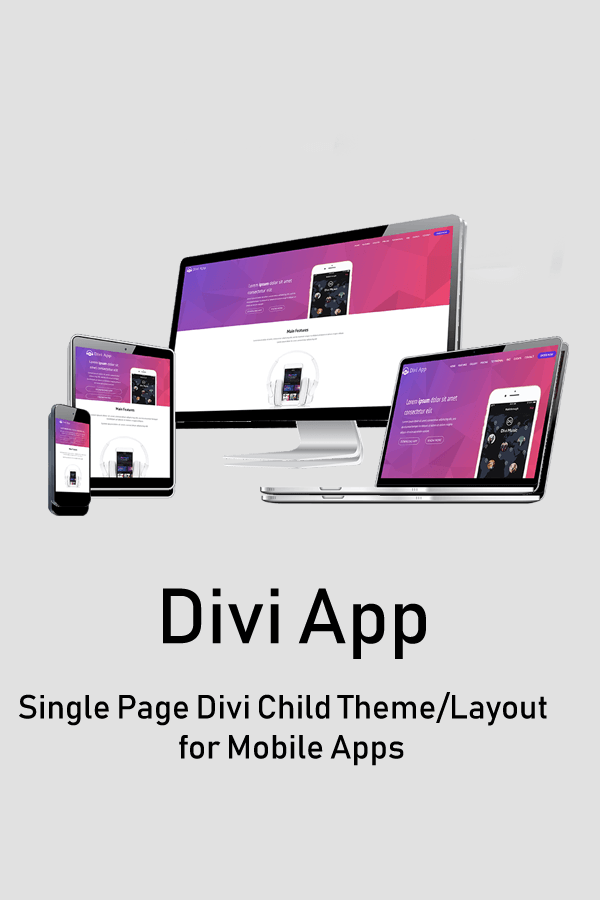 Single page Divi Child Theme for Mobile Apps. Create a website for mobile app in no time using Divi App child theme. It is a single page child theme with smooth scrolling section navigation.
File Structure
1. Name of the main file is divi-app.zip. It needs to be extracted further before uploading.
2. The extracted zip file contains the following files: (1) divi-app.zip (2) Divi Builder Layouts.json (3) Divi Theme Options.json (4) Divi Customizer Settings.json (5) readme.txt (6) license.txt (7) content.xml
Installation
1. Install child theme using extracted divi-app.zip and activate it.
2. Navigate to Tools>>Import>>WordPress and import the content.xml file. It will create the page by default.
3. Navigate to Theme Customizer and import Divi Customizer Settings.json
4. Navigate to Divi theme panel and import Divi Theme Options.json (Divi >> Divi Library >> Import & Export)
5. Update content and images.
Using Divi App as a Layout instead of Child Theme
If you want to use Divi App as a Layout with an existing Divi theme, you could import Divi Builder Layouts.json by going to Divi>>Library and then create a page and import this layout. In this case, you will need to copy the CSS from the stylesheet (or here) and paste it into Divi building CSS area. Here is a video on how the code below will be added to a page https://www.youtube.com/watch?v=M-Tx8pYxKOw.
---
A single site license is valid for use on 1 website.
Extended license is valid for use on more than 1 website (including sites developed for clients).
Free update available for product lifetime.
*Support is provided by vendors directly.
You have questions about your purchased plugin, theme or layout? Then use this form to get your answers as soon as possible. If you have a license key, please enter it here. You can find it in your account under "view details and downloads". Otherwise, please use the invoice id from your invoice.