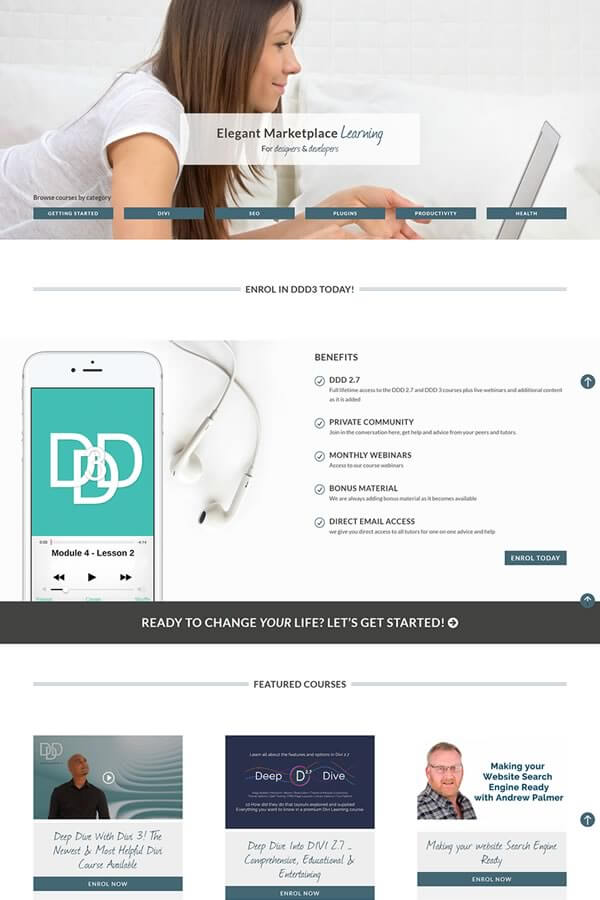 We have produced this course to help you get the very best out of The #1 WordPress theme out there. Divi 3 has changed the WordPress World  – lets help you change your World.
Just $267.00 and includes….
Brand new course material for Divi 3 …. PLUS….Make your website search engine ready by Andrew Palmer
Full access to our DDD 2.7 course
Full lifetime access to the DDD 2.7 and DDD 3 courses plus live webinars and additional content as it is added
PRIVATE COMMUNITY
Join in the conversation here, get help and advice from your peers and tutors.
MONTHLY WEBINARS x 4
Access to our course webinars
BONUS MATERIAL
We are always adding bonus material as it becomes available
DIRECT EMAIL ACCESS
We give you direct access to all tutors for one on one advice and help
---
Lifetime Access once bought.
Music courtesy of http://www.bensound.com/
*Support is provided by vendors directly.