Divi Client Dashboard – CLDASH
Assign WordPress website content that will be managed within the user dashboards ( post types, woo-commerce, comments, contact forms, custom code…) and assign which actions can be performed on the content by client users
Buy Now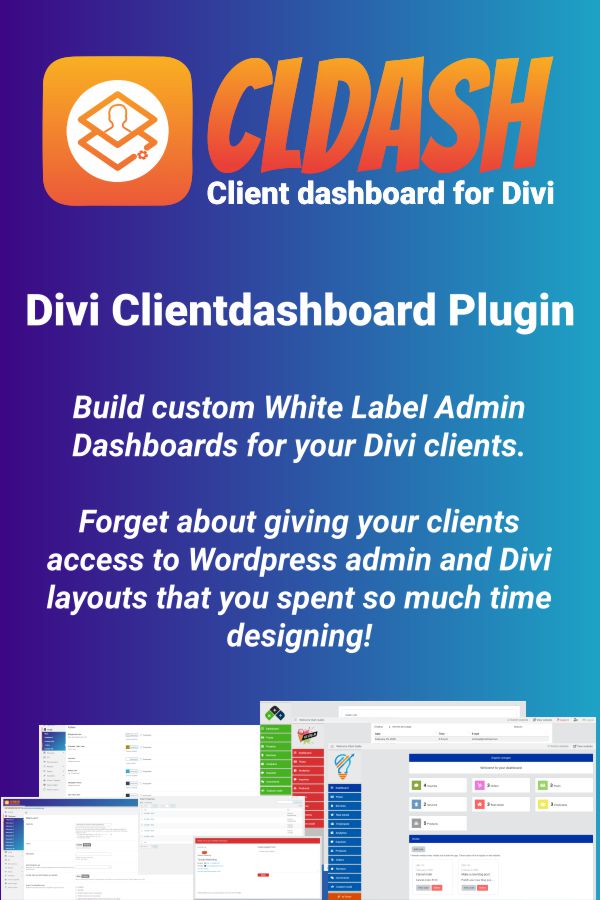 With client dashboard plugin you can:
Assign WordPress website content that will be managed within the user dashboards ( post types, woocommerce, comments, contact forms, custom code…) and assign which actions can be performed on the content by client users
Create dashboard client users and give them unique content access depending on their needs and roles in the client company.
Fully Customize and translate the dashboard for the client any way you like
Connect custom Google data studio reports to each client user so that each user can see all important analitycs from their dashboard .
Track all website contact form submissions (Divi and Caldera forms), WordPress comments and Woocommerce product reviews within user dashboards.
Client users can communicate whit each other by leaving quick notes and reminders
Provide better support to client users with support tickets – clients are able to leave support requests from their dashboard.
Provide your clients with a solution for easier Woocommerce products and orders management – clients will have an easier way to make changes for their products.
Switch client admin dashboards between WordPress websites in the network if clients have more than one website
Provide a solution for custom code integration by client users or partners ( freelancers, marketing agencies)
and more…
What is the cost? Not that much. ?
Pricing:
Single Site License : Monthly $4.99 / Month
Single Site License : Annually $39.99 1st payment, then $4.00 / month ($31.99 annually)
Single Site License : Lifetime $149.99
Unlimited Site License : Monthly $12.99 / Month
Unlimited Site License : Annually $99.99 1st payment, then $12.00 / month ($79.99 annually)
Unlimited Site License : Lifetime $269.99