Cloudways Managed Cloud Hosting
Focus on building great websites, not on web hosting complexities. Our managed hosting platform gives digital agencies and ecommerce businesses flexibility and choice in how websites are hosted. Backed by 24/7/365 support, you're guaranteed peace of mind.
Buy Now
Innovative Platform Built to Empower Teams
Finding a web host can be a tricky thing, with so many different options available from a wealth of varying WordPress web hosting companies.
Each WordPress hosting company has its setup, and there's a lot of jargon based around hosting, don't worry though.
Elegant Marketplace is going to break it down into manageable, understandable chunks and explain what Cloudways Managed Cloud Hosting service offers and why you need to use them.
Take the free trial
Right off the bat, Cloudways Hosting offers a free trial, and you can sign up via Linkedin, Github, or using your Google account.
The three-day free trial is a great way to take Cloudways for a spin, without breaking the bank.
Cloudways Control Panel
Once you've signed up, the interface is clean and easy to use; everything is straight forward, and you can launch your server in no time at all.
No clunky UI, clean is the order of the day, giving YOU more time to concentrate on installing WordPress for your business.
Servers on offer from Cloudways
Cloudways offers five top-flight cloud hosting providers; there's something for everyone here, from designers, developers, and businesses.
DigitalOcean
One of the fastest-growing cloud providers; they offer a relatively inexpensive cloud setup, suitable for bloggers and small to medium businesses. DigitalOcean has seven Data Centers in three countries.
Linode Cloud
Popular with developers, they offer quality cloud servers with eight Data Centers across three different regions.
Vultr
With 16 Data Centers available across the globe, Vultr is fast becoming one of the top IaaS (Infrastructure as a service) companies around.
Amazon AWS EC2
A popular choice for many Amazon, with eight Data Centers in six6 different countries, this server setup is for large scale businesses.
Google Cloud Platform
The Google Compute Engine is ideal for large scale websites, with four Data Center sites in three different continents.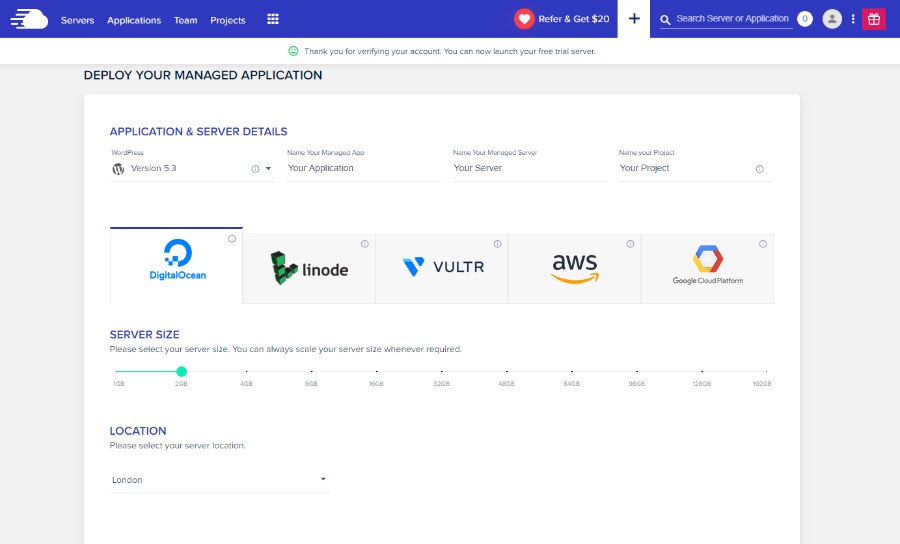 Make your server your way, with Cloudways.
Choose from the cloud providers mentioned, then select your server size, if you outgrow your setup, you can always expand on it as and when you need to.
There are more options available for Vultr, AWS, and Google, such as storage, databases, and more.
Lastly, choose the location for your server; each cloud provider has varying server locations so you can mix it up and find the right solution for your site setup.
Cloudways Cloud Hosting scales with your needs
The way Cloudways has structured their offering is unique in that you get what you pay for, start small, and increase over time.
Cloudways grows with your blog/business, scale up when YOU need to, without getting locked in with a feature set you'll never use.
Cloudways Features
What's a WordPress powered website without an optimized environment? Answer useless.
Cloudways helps you stay on target with optimized solutions perfect for bloggers, WooCommerce store owners, agencies, and businesses.
Let's take a look through some of the features Cloudways has up their sleeves.
Solid State Drive Hosting
With SSD hosting, your WordPress powered website will perform at speed, serving up your content stored reliably on cutting edge drives.
Caching built-in
Speed, speed, speed, with Cloudways custom cache solution, your WordPress site will be optimized to cope with high traffic spikes and usage.
The CloudwaysCDN
A CDN (Content Delivery Network) can help even more when it comes to page speed, reducing load times, nobody likes a slow loading website, especially search engines.
Breeze Cache Plugin
The Breeze plugin from Cloudways will help cache your site even more, purpose built by developers who know WordPress inside and out and optimized for their cloud hosting.
Cloudways security
You've heard the horror stories; my WordPress website was hacked!
Well, with dedicated firewalls, IP whitelisting, database security, login security, Cloudways has your back.
Did we forget to mention you'll also receive a free SSL certificate?
Cloning your WordPress websites
With a one click cloning solution available, you can clone certain WordPress websites, or if you'd like to clone the entire server you can.
Staging sites
Not ready to launch your site yet? Need to test functionality, get your design approved for a client? Cloudways provides unlimited staging URLs as and when you need them.
Once done, publish to your live site, simple and clean.
Unlimited WordPress websites
Have more than one WordPress powered website? Cloudways doesn't restrict you on how many installs of WordPress you have; they charge for server resources, not how many sites you have.
Perfect for those hosting multiple client sites or niche blogs.
Want to change your web hosting?
If you're looking to take the plunge with Cloudways, why not take advantage of their free WordPress migration service? Cloudways will migrate one WordPress website for free.
Need more than one website migration? Cloudways has a migrator plugin to help you move as many websites as you need, for free.
Cloudways Support services
Support can make or break a WordPress web host, offer lousy support, lose business. Simple.
Thankfully Cloudways is not one of those companies. It's an essential part of their business, and it shows.
24/7 Support via live chat
Need an answer right away? Help is never too far away, thanks to Cloudways live chat support system, click on the chat, ask for help, get a response, 24 hours a day, seven days a week.
Cloudways Knowledgebase
Like to learn things yourself? Well, if you do, Cloudways has an extensive knowledge base, covering everything from getting started, server management, application management, and more besides.
It's broken down into easy to navigate sections and has everything you need all available from a couple of clicks.
What's on offer if you sign up?
There are several different packages to fit all budgets, so there's something for everyone.
Whether you're a designer, developer, agency, or blogger, you'll be at home with what Cloudways offers.
Let's take a look through what's included in the hosting plans; we've only covered the tip of the iceberg so far. There's so much more on offer.
Below are just some of the features Cloudways Managed Hosting service offers; to find out more, you need to take a look here.
● Optimized for WordPress
● Truly unlimited WordPress installs – you pay for server resources, not per website
● Dedicated server IP address and a Firewall
● A custom plugin for caching, helping your site stay quick
● Backups, Cloudways offers Automated backups of your sites
● A Free SSL certificate to instill confidence in your website for users
● SSD hosting, reliable hosting of your files, database, and content
● Real-time monitoring of your sites 24/7
● Ability to scale your server setup, you pay for what you need, nothing more
● No contract, you're not locked into anything at all
● Multiple versions of PHP available including the latest
● HTTP/2 Enabled servers which means your content is loaded faster
● Various cloud providers available, choose a provider that fits YOUR needs
● SSH & SFTP access if you need it
● WP-CLI comes pre-installed
● Integration with Git
● 24/7 Live chat support available, more support options are available as additional addons
● Extensive knowledgebase
● Easy to use control panel
What packages do Cloudways offer?
We've already mentioned there are several different solutions available with Cloudways, let's take a look through them, remember they have all of the features outlined above and more.
(Please refer to second document for pricing wasn't sure if you needed this or not or if you have a preferred method etc)
The part you were waiting for the Cloudways deal!
(Unique offer text or description to go here, I don't know how you want to sign this off, so I'll leave this blank.)