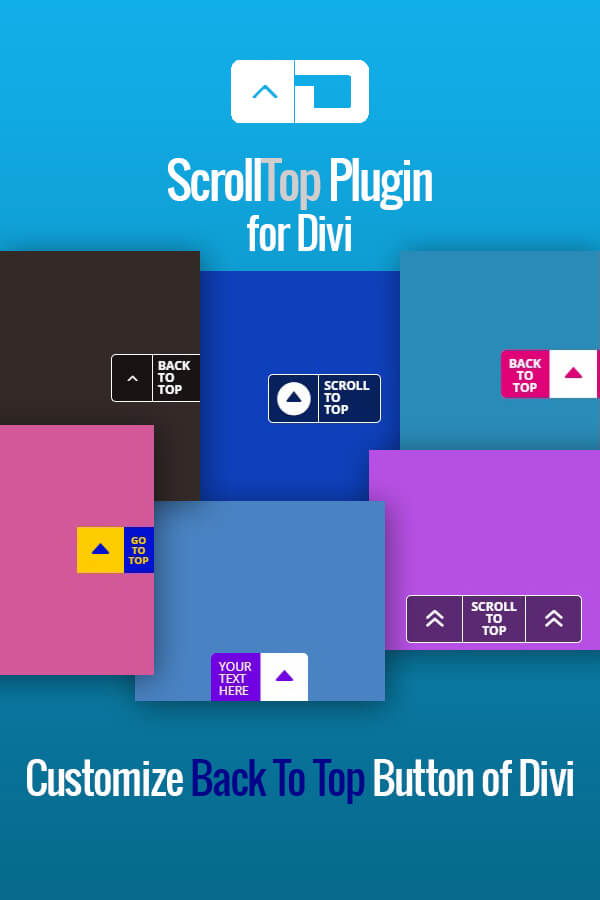 ScrollTop plugin extends the functionality of Back To Top button of Divi Theme which is very useful for long pages allowing the reader to scroll the page back to top with a single click. This plugin adds 30+ new options to the Divi Theme Customizer which let you do all the customizations of Back To Top button with live preview allowing you to design and style it without applying any custom code. It comes with the following features:
Hide Back To Top button on specific posts/pages using meta box on edit screen.
Automatic update notifications with one-click updates via WP Dashboard
Show/Hide Back To Top button on different devices (Desktop/Tablet/Mobile);
Add text to the Back To Top button(e.g. "Scroll to top");
Select a different icon;
Use 1 or 2 icons with text or use text only;
Change Back To Top button position;
Change icon position (left/right);
Apply new animations: select among the 14×2 animations (in & out) and adjust animation duration;
Lots of options to style the look and feel of the Back To Top button (colors, margins, paddings, borders, border radius, etc.);
Apply hover styles to button, icon and text;
If you are also using the Dot Navigation for your long pages then you might check out the DotNav plugin for Divi too which extends the functionality of the Divi Dot Navigation. These two plugins work perfectly with each other.

Other Divi plugins by Ivan Chi
You must log in and be a buyer of this download to submit a review.
---
Changelog:
v1.2.3 (14.03.2019)
-- Improvement: updated the plugin updater to the latest version
v1.2.2 (13.11.2018)
-- Fix: fixed the issue with settings default values not being applied correctly in some cases
v1.2.1 (05.01.2018)
-- Improvement: multi-input controls now have the "reset to default" functionality
-- Improvement: various code optimisations
-- Misc: updated plugin Customizer settings panel color scheme for consistency with other plugins
-- Fix: fixed the animation duration control issue causing the float number to be rounded
v1.2 (31.10.2017)
- Added automatic updates feature.
v1.1 (16.09.2017)
- New Feature: hide the Back To Top button on specific posts/pages using meta box on edit screen.
v1.0 (11.07.2017)
— Initial Release
Checkout the documentation first and if you still need help open a support ticket.
View Docs
You may install this product on any number of websites that you build for yourself or your clients.
You are not allowed to resell or redistribute the plugin in any form or by any means without prior written permission of the author. We kindly ask you to respect developer's work.
By purchasing the ScrollTop plugin for Divi you receive lifetime updates and 6 months support. Premium support charges may be incurred after this period. Support does not comprise individual plugin customizations.
Please be aware that you will need an amount of experience in Divi Theme and WordPress to take advantage of our themes and plugins.
Please make your decision to purchase based upon your skill level to see if our products fit your needs. Due to the nature of Digital Downloads, Refunds are not possible – please ensure that the product you are buying will do the job you want it to.
All support for products is handled by Vendors and contact details will be included in the download packages. If contact details are not found within the files, please do contact us and we will be happy to put you in touch with the vendor concerned. 
*Support is provided by vendors directly.
Please login to access the support form. you can do so here