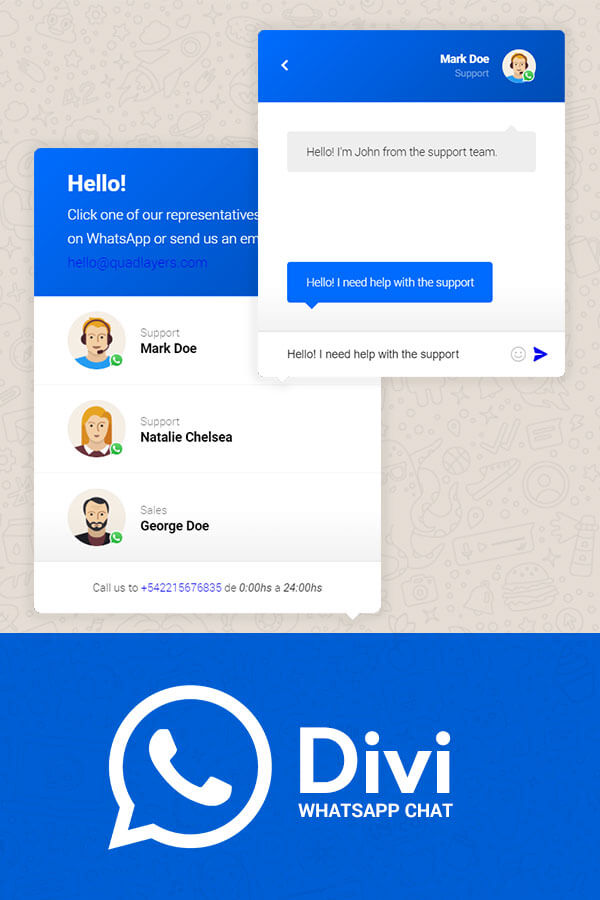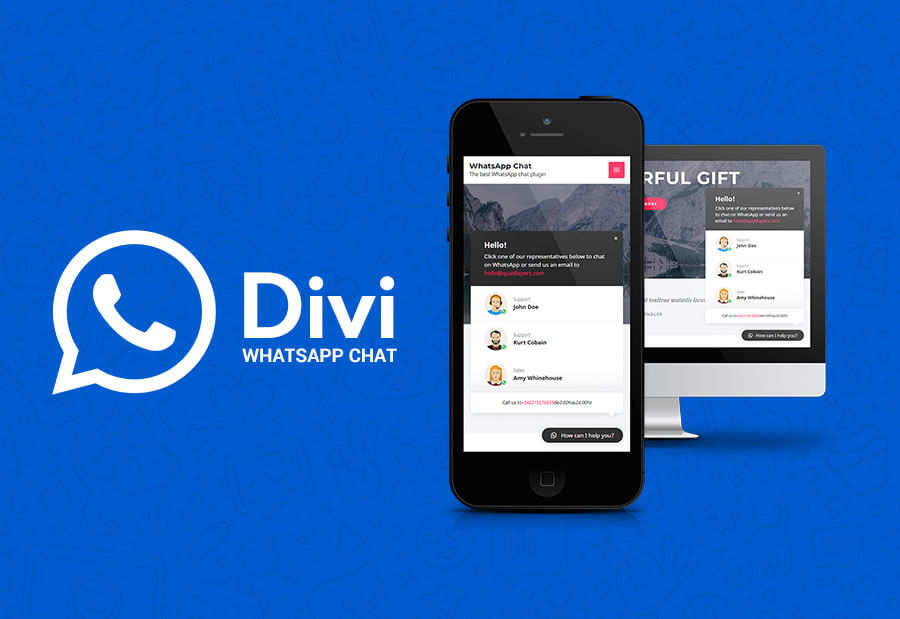 The premium version of the WhatsApp Plugin allows your visitors and customers to send messages directly to you or multiple agents phone numbers.
Once the user completes the message in the box and presses the send button, it will be redirected to the WhatsApp web or app if it's on a mobile device.
Multiple team member accounts
Our plugin allows you to include unlimited agent accounts with their names and labels inside the box to provide direct contact to the different support areas of your site.
Chatbox interface for each agent
WhatsApp chat for WordPress allows you to include a chatbox for each agent where your users can type their first message.
Custom agent message
Allow you to set a custom message for each agent that will be displayed on the chatbox
Custom user message
You can choose the predefined user message that will be sent to the agent phone number
Type user message
Allow your users to type their own messages before sending it to the agent phone number
Customize your color and layout settings
Customize the colors to match your site's theme and the text to represent your main users' language through the WordPress live customizer interface.
Select between our custom icons
Our plugin allows you to select between more than fourteen icons to include in your Whatsapp button.
---
Checkout the documentation first and if you still need help open a support ticket.
View Docs
QuadLayers will respond to buyers questions and provides limited support through the ticket support system. The plugin is licensed for lifetime updates
Divi Whatsapp Chat Support
Availability of the author to answer questions
Answering technical questions about item's features
Assistance with reported bugs and issues
Help with included 3rd party assets
Please see the links above to receive direct support
Not included
Customization services
Installation services
*Support is provided by vendors directly.
You have questions about your purchased plugin, theme or layout? Then use this form to get your answers as soon as possible. If you have a license key, please enter it here. You can find it in your account under "view details and downloads". Otherwise, please use the invoice id from your invoice.