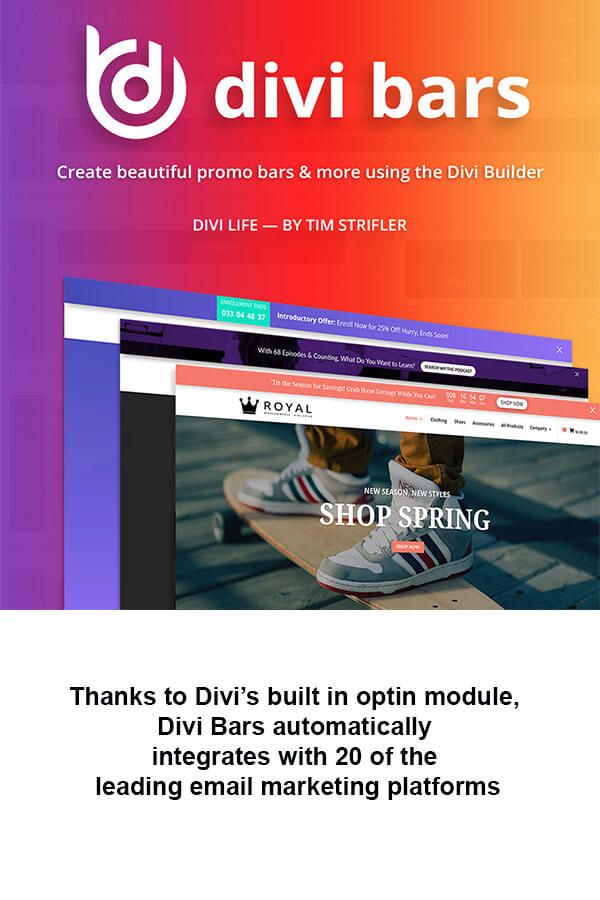 Divi Bars lets you create gorgeous slide-in promo bars, notification bars, optin bars, and so much more; using the power and flexibility of the Divi Builder!
Promote any content, any time, and on any page of your website. Break away from the typical stale promo bars your visitors are used to seeing, and instead unleash your creativity with Divi Bars; and insert anything you can imagine via the Divi Builder.
Trigger your Divi Bar on any page, and at anytime: on page load, after a timed delay, a scroll delay, or with Exit Intent technology; which will trigger your Divi Bar precisely before the user leaves your website!
Divi Bars also lets you choose top or bottom placement, and fixed or unfixed to the top of screen. Additionally, Divi Bars gives you control over the close button cookie expiration to define how many days the bar will go before triggering agin for that user. Plus, Divi Bars includes the ability to hide the main close button, customize the close button, as well as create your own custom close button within the bar itself!
Thanks to Divi's built in optin module, Divi Bars automatically integrates with 20 of the leading email marketing platforms:
Mailchimp
Aweber
Feedburner
Convertkit
Mailerlite
Mailster
Infusionsoft
Ontraport
iContact
HubspotDivi Barsplugi
Emma
MadMimi
GetResponse
Feedblitz
ConstantContact
Sendinblue
ActiveCampaign
SalesForce
Campaign Monitor
Mailpoet
---
Divi Bars is a third party product and the licensing is as you see on the Divi Life website.
*Support is provided by vendors directly.